Breakthroughs in Literacy: Teacher Success Stories and Strategies, Grades K-8
ISBN: 978-0-470-37182-4
240 pages
August 2009, Jossey-Bass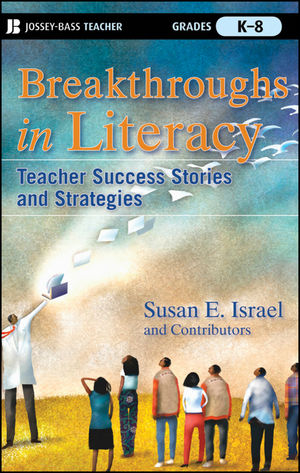 Teachers share advice on creating successful literacy classrooms for all students, including those who struggle
This much-needed resource is filled with lively and inspiring stories from teachers who overcame challenges with underperforming and struggling learners-many of them special needs students-to make significant breakthroughs in reading and writing instruction. The teachers reveal their trials, errors, and triumphs in how they discovered particular instructional strategies or incorporated modeling and motivational techniques that best addressed students' learning needs and opened a path to success. Compelling and absorbing, the book includes unusual and often surprising approaches for connecting with students, including books that made a difference.
Offers wisdom, inspiration, and guidance on working with varied students to improve reading and writing skills
Contains 29 stories from real-world teachers who have had success in teaching literacy
Summary sections focus on key breakthrough strategies, lessons learned, reflection questions, actions tips, and recommended resources
Describes effective modeling, motivational, and engagement practices
See More
Introduction:Why Teacher Stories? xi
Acknowledgments xix
The Author and Editor xxi
The Contributors xxiii
PART ONE Connection: Knowing the Learner
About the Stories 3
Susan E. Israel
Expecting the Aha!Moment 7
Karen Kindle
Facing My Chair Forward 11
Limor Pinhasi-Vittorio
Books Will Be Her Legs 17
Vicki S. Collet
"I Guess Kids Can Be Teachers Sometimes" 21
Cynthia J. Poston
Through the Red Door of Room 207 25
Angie Zapata
To Know Them Is to Teach Them 29
Martha Ford
Reflections on the Breakthroughs 33
Susan E. Israel
breakthrough elements 34
reflection questions 35
lessons learned 36
ten literacy breakthrough actions
you can take today 37
further reading 38
PART TWO Motivation: The Right Book Can Make a Difference
About the Stories 43
Susan E. Israel
Carpet Fuzz, a Staple, and a Story 47
Danna Parsons
A Plan to Listen 51
Emily Manning
Every Picture Tells a Story: Supporting Young Authors with Wordless Picture Books 55
Elizabeth M. Frye
"I'm an Amazing Reader!" 59
Karen A. Jorgensen
A Special Boy Teaches Us Special Lessons 63
William P. Bintz and Pamela L.Wright
Kids Become Better Readers . . . by Reading! 67
Kathy A. Egawa
The Mattie Club: Created by Children Who Love Poetry and Life 73
Lindsay P. Grow
My Opinion: No One Ever Asked Before 77
Lisa Janes
Spiderman to the Rescue 81
Daniel T. Holm
Reflections on the Breakthroughs 87
Susan E. Israel
breakthrough elements 88
reflection questions 90
lessons learned 90
ten literacy breakthrough actions
you can take today 91
further reading 92
PART THREE Engagement: Multisensory Experiences
About the Stories 97
Susan E. Israel
Learning to Read His Own Way 99
Terry S. Atkinson
If They Can't Learn the Way We Teach,Maybe We Should Teach the Way They Learn 103
Nina L. Nilsson
"I Gotta Touch the Book!" Reading Aloud with Young Toddlers 109
Amelia C. Evans and Mariana Souto-Manning
"What Does This Say?" A Small Request with Huge Implications 113
Marianne McTavish
Gifts from My Heart 117
Mary J. Banta
Ten-Year-Olds, Tapes, and the Epiphany 121
Sheila Gaquin
Why Art? 125
Monique Poldberg
Reflections on the Breakthroughs 129
Susan E. Israel
breakthrough elements 130
reflection questions 132
lessons learned 133
ten literacy breakthrough actions
you can take today 134
further reading 135
PART FOUR Transformation: Learning Together
About the Stories 139
Susan E. Israel
Perseverance,Motivation, and Collaboration: The Tools Needed for Success 141
Katie Sullivan
Better Than a Base Hit 145
Deborah Vessels
"Cheeese!" 149
Gina A. Goble
Formulaic Writing Is Not for Everyone: Especially Gifted First Graders 153
Evangelina "Gigi" Brignoni
Spelling, Reading, and Writing Give Joey an Unexpected Voice and His Teacher and Classmates Inspiration 157
Richard M. Oldrieve
"You Know Those Marks . . . ?" 163
Alexa L. Sandmann
Nudging One Reluctant Writer into Action 167
Lori Berman Wolf
Reflections on the Breakthroughs 177
Susan E. Israel
breakthrough elements 178
reflection questions 179
lessons learned 180
ten literacy breakthrough actions
you can take today 180
further reading 181
PART FIVE Conclusion
Seven Pathways to Literacy Learning 185
Susan E. Israel
pathway #1: be open to discovery 187
pathway #2: develop an "i can" attitude 188
pathway #3: cultivate students' trust 190
pathway #4: match strategy to the learner 191
pathway #5: celebrate achievements 192
pathway #6: seek wisdom from others 193
pathway #7: make teaching personal 193
References 197
Index 201
See More
Susan E. Israel, PhD., is an independent researcher, writer, and literacy consultant. A former elementary teacher, she has written and edited books for the International Reading Association.
See More
Buy Both and Save 25%!
Breakthroughs in Literacy: Teacher Success Stories and Strategies, Grades K-8 (US $22.95)
-and- Writing Fiction For Dummies (US $19.99)
Total List Price: US $42.94
Discounted Price: US $32.20 (Save: US $10.74)
Cannot be combined with any other offers. Learn more.
Learn more about