The Intersections of Personal and Social Identities: New Directions for Child and Adolescent Development, Number 120
ISBN: 978-0-470-37283-8
112 pages
September 2008, Jossey-Bass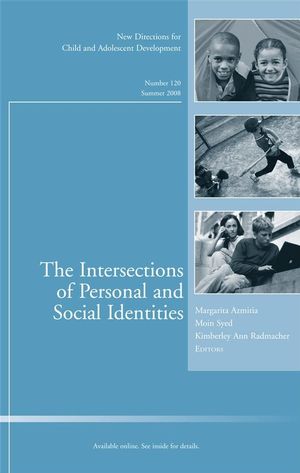 This volume brings together in interdisciplinary set of social scientists who are pioneering ways to research and theorize the connections between personal and social identity in children, adolescents and emerging adults.
The authors of the seven chapters address the volume's three goals:
Illustrating how theory and research in identity development are enriched by an interdisciplinary approach
Providing a rich developmental picture of personal and social identity development
Examining the connections among multiple identities
Several chapters provide practical suggestions for individual, agencies, and schools and universities that work with children, adolescent, and emerging adult in diverse communities across the United States.
This is the 120th volume of the Jossey-Bass quarterly report series New Directions for Child and Adolescent Development. The mission of New Directions for Child and Adolescent Development is to provide scientific and scholarly presentations on cutting edge issues and concepts in the field of child and adolescent development. Each volume focuses on a specific "new direction" or research topic, and is edited by an expert or experts on that topic.
See More
1. On the Intersection of Personal and Social Identities: Introduction and Evidence from a Longitudinal Study of Emerging Adults (
Margarita Azmitia, Moin Syed, Kimberley Radmacher
)
The editors of the volume introduce the theories and research on personal and social identity development that provided the foundation for the volume and explain how the three themes of the volume, as exemplified in the six chapters that follow this introduction, extend the theories and research in new ways. The authors also illustrate the three themes of the volume with highlights from the other chapters and with their four-year longitudinal study of the transition to college of diverse emerging adults.
2. Creating New Social Identities in Children Through Critical Multicultural Media: The Case of Little Bill (Aída Hurtado, Janelle M. Silva)
This chapter provides an overview of Tajfel's social identity theory and reviews the critical multicultural perspective that focuses on helping children with stigmatized social identities develop positive social identities. The authors propose that television programming that thoughtfully embodies critical multiculturalism can help stigmatized children develop positive identities and all children understand the prejudice and discrimination experienced by members of stigmatized groups. This type of TV programming can also give children ideas and strategies they can use to improve their lives and those of their stigmatized peers.
3. Gender Identity and Adjustment: Understanding the Impact of Individual and Normative Differences in Sex Typing (Leah E. Lurye, Kristina M. Zosuls, Diane N. Ruble)
Integrating theory and research on personal and social identity development in developmental and social psychology can further our understanding of gender identity development. The authors support their proposals with the findings from a short-term longitudinal study of how the developmental timing and degree of sex typing contours children's gender identity development and can be used to predict their mental health.
4. Fighting Like a Girl Fighting Like a Guy: Gender Identity, Ideology, and Girls at Early Adolescence (Lyn Mikel Brown, Mark B. Tappan)
This chapter explores the phenomenon of "girls fighting like guys" by listening to adolescent girls' justification for physical fighting with other girls. The authors argue that physical girlfighting is a performance of gender identity that both perpetuates and challenges traditional notions of femininity and masculinity. They conclude with implications of their work for those who work with girls in educational and clinical settings.
5. To Be or Not to Be: An Exploration of Ethnic Identity Development in Context (Niobe Way, Carlos Santos, Erika Y. Niwa, Constance Kim-Gervey)
This chapter presents a qualitative study on the intersection of personal and social identities in ethnic minority high school students. The authors show how the peer social hierarchies at this particular high school in a poor neighborhood in New York City contextualize adolescents' construction and performance of their gender, ethnic, and class identities. They conclude with speculations about how their findings can be extended beyond this high school and the adolescent students who participated in their research.
6. Theorizing Multidimensional Identity Negotiation: Reflections on the Lived Experiences of First-Generation College Students (Mark P. Orbe)
This chapter draws on research on first-generation college students to propose an interdisciplinary theoretical framework for understanding how these theories negotiate and enact their personal, social, and cultural identities. The author also illustrates how dialectical and crosscultural adaptation theories can inform theoretical and applied work on the challenges and resources first-generation students face as they try to adapt and succeed in their transition to college.
7. Bridging Identities and Disciplines: Advances and Challenges in Understanding Multiple Identities (Jean S. Phinney)
This chapter presents a commentary on the preceding six chapters. The author proposes that although the chapters provide valuable insights that add to understanding of personal and social identity development, and in particular, social identities, there is still much work to be done. She concludes by highlighting the challenges of interdisciplinary work on identity development and proposing some solutions for meeting these challenges.
INDEX.
See More
Here is pioneering research on the connections between personal and social identity development in children, adolescents, and emerging adults. This volume takes an interdisciplinary approach to identity development, provides a rich developmental picture of personal and social identity development, and examines the connections among multiple identities.
*The volume includes cutting-edge essays on the interplay between gender, ethnicity, and social class in child and adolescent development.
*The authors' approach is interdisciplinary, making it useful for upper division and graduate courses in psychology, education, and sociology.
*The essays address theoretical, empirical, methodological, and social policy issues in ways that are accessible to a broad audience (minimal jargon).
See More