Internet Visual Quick Tips
ISBN: 978-0-470-37344-6
256 pages
August 2008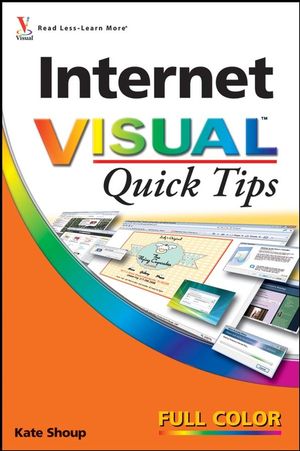 Would you like to browse the Web incognito, boost your system's performance, get more out of Google, and enjoy all the cool ways to social network? Then this
Visual Quick Tips
book is for you. This book will increase your productivity by providing you with shortcuts, tricks, and tips to help you work smarter and faster.
Learn How To:
Take your Internet skills to new levels
Start your own blog and attract readers
Enjoy LinkedIn, MySpace, and other cool sites
See More
Chapter 1: Customizing Your Browser.
Set a Default Home Page.
Mark a Page as a Favorite.
Visit a Favorite Page.
Organize Your Favorites.
View Your History List.
Customize Your Browser Toolbar.
Add an Address Bar to Your Windows Taskbar.
Browse in Full Screen Mode.
Increase or Decrease Text Size.
Browse Multiple Pages with Quick Tabs.
Chapter 2: Enhancing Browser Performance and Security.
Test Your Internet Connection Speed.
Scan for Spyware with Windows Defender.
Change Pop-Up Blocker Settings.
Detect Phishing Web Sites.
Change Internet Explorer Security Settings.
Delete Your Browser History.
Manage Cookies.
Configure Windows Firewall.
Restrict Access to Questionable Content.
Connect to a Wi-Fi Network.
Chapter 3: Harnessing the Power of Google.
Hone Your Results with Google's Advanced Search Page.
Set Your Google Search Preferences.
Translate Foreign-Language Web Sites.
Install and Use the Google Toolbar.
Locate Pictures with Google's Image Search.
Peruse Books with Google Book Search.
Stay Current with Google News.
Orient Yourself with Google Maps.
Share a Calendar on Google.
Chapter 4: Entering the Blogosphere.
Search for Blogs.
Subscribe to a Blog.
Start Your Own Blog.
Populate Your Profile.
Customize the Look and Feel of Your Blog.
Create a New Post.
Edit a Post.
Add a Photo to a Post.
Add a Video to a Post.
Insert a Hyperlink in a Post.
Allow Additional Blog Contributors.
Attract Readers to Your Blog.
List Your Blog with Blog Directories.
Moderate Blog Comments.
Chapter 5: Managing and Sharing Photos Online.
Create a Flickr Account.
Upload Digital Images to Flickr.
Add Titles, Descriptions, and Tags.
Organize Your Photos with Sets.
View Your Photos and Sets.
Edit a Photo with Picnik.
Order Prints.
Change an Image's Safety Level.
Create Your Flickr Profile.
Create a Unique Flickr Address.
Invite Others to Flickr.
Keep Your Photos Private.
Manage Viewer Comments.
View Other People's Photos.
Chapter 6: Keeping In Touch with E-mail, IM, and Internet Phone.
Get a Free Hotmail Account.
Handle Incoming Messages.
Add Contacts to Hotmail.
Manage Your Messages.
Block Spam.
Download and Install Windows Live Messenger.
Populate Your Live Messenger Contacts.
Send and Receive IMs.
Download Skype.
Add Contacts to Skype.
Place Calls on Skype.
Place a Conference Call.
Chapter 7: Connecting with Others Online.
Join MySpace.
Populate Your MySpace Profile.
Personalize Your Page with Pictures.
Scan for Friends on MySpace.
Search for MySpace Members.
Make Your MySpace Profile Private.
Join LinkedIn.
Populate Your LinkedIn Profile.
Scan for Contacts on LinkedIn.
Search for LinkedIn Members.
Chapter 8: Maximizing Your Success on eBay.
Create an eBay Account.
Research Before You Bid.
Check a Seller's Feedback.
Track an Item Before You Bid.
Enter Your Maximum Bid.
Snipe to Win an Auction Near Its Close.
Pay Painlessly with PayPal.
Create a Simple Item Listing.
Enliven Your Listing with Listing Designer.
Maximize Descriptions with Fonts and Formatting.
Enhance Photos for Best Results.
Add a Reserve Price.
Manage Your Auctions with My eBay.
Chapter 9: Enjoying Media Content Online.
Download and Install iTunes.
Explore the iTunes Store.
Set Up Your Apple Account.
Manage Your Apple Account.
Locate Content in the iTunes Store.
Preview and Purchase Content in the iTunes Store.
Subscribe to a Podcast.
Listen to a Podcast.
Listen to an Internet Broadcast.
Locate Videos on YouTube.
Add a Video to Your YouTube Favorites.
Upload a Video onto YouTube.
See More
During the course of her career as a freelance writer, Kate Shoup has written or cowritten several books on various topics, including Look & Learn FrontPage 2002, What Can You Do with a Major in Business, Not Your Mama's Beading, Not Your Mama's Stitching, Windows Vista Visual Encyclopedia, and Webster's New World English Grammar Handbook. She has also co-written a screenplay, and worked as the Sports Editor for NUVO Newsweekly. Prior to striking out on her own, Kate worked as an editor at a computer-publishing company, where she engaged in such diverse professional activities as consulting on the development of new series, consulting on ways to improve the publishing workflow, and editing numerous standout titles. When not writing, Kate loves to ski (she was once nationally ranked), make jewelry, and play video poker — and she plays a mean game of 9-ball. Kate lives in Indianapolis, Indiana, with her daughter.
See More