Civic Service: Service-Learning with State and Local Government Partners
ISBN: 978-0-470-37374-3
384 pages
August 2009, Jossey-Bass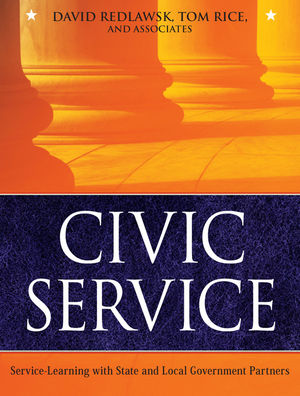 This book reveals how to implement effective service-learning programs and contains myriad examples of successful efforts across multiple disciplines. The book focuses on service-learning with government partners, such as city councils, school districts, and public agencies however the lessons are easily transferable to service-learning courses with businesses and not-for-profit organizations. Taking a unique approach, the book offers comprehensive look at all of the constituencies served by service-learning, including, teachers and students, government agencies as community partners, higher education administrators, and community citizens.
See More
Foreword.
Acknowledgments.
The Editors.
The Contributors .
1. Why Civic Service (Tom Rice and David P. Redlawsk).
2. Partnerships That Work: Developing and Sustaining Service-Learning Partnerships with Government Agencies (Steven G. Jones, Johnny Goldfinger, and Timothy M. Koponen).
VOICES: Social Service Agencies as Government Partner.
3. CommUniverCity San Jos': Building a Partnership for Service and Learning (Terry Christensen and Melinda Jackson).
VOICES: City and University.
4. Learning Politics and Learning to Learn: A Collaborative Service-Learning Project with a Local Government (Jeffrey L. Bernstein and Joseph Ohren).
VOICES: The Government Practitioner.
5. Linking Advanced Public Service-Learning and Community Participation with Environmental Analytical Chemistry: Lessons from Case Studies in Western New York ( Joseph A. Gardella, Jr., Tammy M. Milillo, Gaurav Sinha, Gunwha Oh, David C. Manns, and Eleanor Coffey).
VOICES: The Community Organization.
6. Pandemic Flu Planning Support for the Commonwealth of Massachusetts (Charles Hadlock, Jennifer Infurna, Peter Koutoujian, and Jennifer Ricci).
VOICES: The Academic Institution.
7. Let's Get It Started: Leadership, Civic Engagement, and Service-Learning ( Kendra A. King).
VOICES: Government Partners and University.
8. When Service-Learning Meets Governmental Inertia: Lessons from an Oklahoma Town (Christine Pappas).
VOICES: Students Make a Difference.
9. Service-Learning in an Urban Public School District: The Buffalo Experience (Joseph A. Gardella Jr., Heather M. Maciejewski, and Mara B. Huber).
VOICES: The School Teacher.
10. Students as Policy Researchers for State Legislatures (Anthony Gierzynski and Tom Rice).
VOICES: State Legislators in Vermont and Iowa.
11. Living the Theory: Local Politics and Service-Learning (David P. Redlawsk and Nora Wilson).
VOICES: A Service-Learning Teaching Assistant.
12. Triangulated Learning: Integrating Text, Current Events, and Experience in State and Local Government (Fredric A. Waldstein).
VOICES: Partners in Service-Learning.
13. Service-Learning in the Engineering Sciences (William Oakes).
VOICES: Long-Term Relationships.
14. Reciprocity: Creating a Model for Campus-Community Partnerships (Marsha K. Turner and Rosa Ramos Morgan).
VOICES: Community Revitalization with a Collaborative Partnership.
Appendix A: Examples of Service-Learning with Government Partners: Varied Approaches (Charlotte Ridge).
Appendix B: Service-Learning Resources.
Index.
See More
David P. Redlawsk is professor of political science and director of the Eagleton Poll at Rutgers University in New Brunswick, New Jersey.
Tom Rice is the chair of the Department of Political Science at the University of Iowa.
See More
Learn more about