Cross-Cultural Selling For Dummies
ISBN: 978-0-470-37701-7
384 pages
October 2008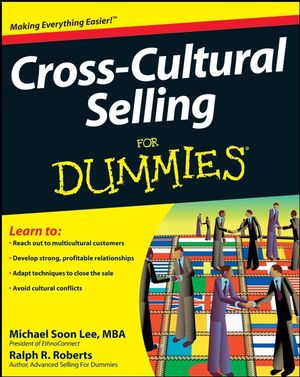 Want to reach out to multicultural customers?
Cross-Cultural Selling For Dummies
is packed with everything you need to know to tap into multicultural markets, from establishing solid relationships to adapting your advertising to meeting the needs of your new clientele. You'll acquire key cross-cultural skills and build a coordinated effort that engages all aspects of your business.
This practical, easy-to-understand guide shows you how to measure the purchasing power of other cultures and change the way you market to them. You'll learn how to do multicultural research, develop a marketing campaign with wide appeal, pick the right media, tune your materials to the market, and establish a presence in the community. You'll find tips on identifying generational differences with in a culture, pronouncing names correctly, and determining customer motivation. Discover how to:
Reach out to multicultural customers
Develop strong relationships
Adapt your sales presentations and techniques
Clear language barriers
Boost your street cred
Present appealing financing options
Create a foundation for long-term success
Handle negotiations with skilled hagglers
Recognize and overcome objections
Adopt techniques to close the sale
Create a strong referral base
Avoid cultural conflicts
Maintain a diverse sales team
You can realize the incredible untapped potential of the multicultural market to send your sales soaring and your profits off the charts. Cross-Cultural Selling For Dummies shows you how!
See More
Introduction.
Part I: Mastering the Multicultural Mind-Set.
Chapter 1: Expanding Your Market.
Chapter 2: Realizing the Incredible Untapped Potential of the Multicultural Market.
Chapter 3: Assessing Your Cross-Cultural Sales Readiness.
Chapter 4: Developing Cross-Cultural Competency.
Part II: Multicultural Marketing and Beyond.
Chapter 5: Building a Marketing Campaign with Global Appeal.
Chapter 6: Developing a Comprehensive Program.
Chapter 7: Building Your Diversity-Friendly Place of Business.
Part III: A Crash Course in Cross-Cultural Sales.
Chapter 8: Mastering the Meet and Greet.
Chapter 9: Building Rapport with Culturally Diverse Clientele.
Chapter 10: Investigating Needs and Probing for Buying Signals.
Chapter 11: Adapting Your Sales Presentation and Techniques.
Chapter 12: Closing the Sale with Diverse Clients.
Chapter 13: Negotiating with Natural-Born Hagglers.
Part IV: Taking Your Game to the Next Level.
Chapter 14: Tweaking Your Customer-Service Skills.
Chapter 15: Generating Word-of-Mouth Referrals.
Chapter 16: Building, Managing, and Retaining a Diverse Sales Team.
Part V: The Part of Tens.
Chapter 17: Ten Myths about Customers from Other Cultures.
Chapter 18: Ten Common Stereotypes of Americans.
Appendix: Culture-Specifi c Insiders Information.
Index.
See More
Michael Soon Lee, MBA,
is a nationally recognized expert in selling and marketing to multicultural customers. He is a diversity consultant and speaker, an award-winning salesperson, and the author of several books.
Ralph R. Roberts is an award-winning and internationally acclaimed real estate agent, speaker, sales coach, consultant, and author.
See More