Living Like You Mean It: Use the Wisdom and Power of Your Emotions to Get the Life You Really Want
ISBN: 978-0-470-37703-1
Hardcover
208 pages
March 2009, Jossey-Bass
US $22.95

Add to Cart
This price is valid for United States. Change location to view local pricing and availability.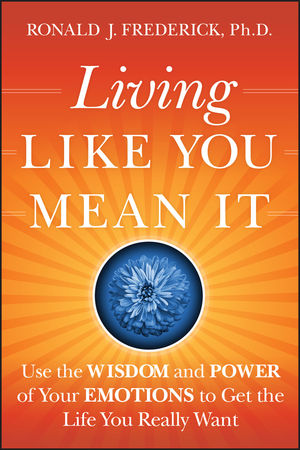 Other Available Formats:
E-book
"Finally, someone is helping us get closer to our emotions and who we are—instead of further away from our power. A moving and inspirational read for anyone in the challenging times we're all going through."
—Melody L. Beattie, NY Times bestselling author of Codependent No More
"What a joy it is to read Dr. Ron Frederick's Living Like You Mean It. Well informed, accessible and engaging, this wonderful book is full of powerful strategies that will enliven your soul, enrich your relationships, and help you have a more deeply meaningful life. I recommend it with enthusiasm!" —John Bradshaw, NY Times bestselling author of Healing the Shame that Binds You
"With compelling insight into the way emotion shapes our lives, Living Like You Mean It invites us on a tremendously useful journey into the mind and brain and shows us how the day-to-day ways we defend against feeling our feelings keeps us from living the lives we really want. But no more! Through practical suggestions, compelling stories, and powerful insights, this book dishes up a readily accessible plan to free us from the prison of our own fear of feeling. Frederick is a liberating guide—and after joining him on this trek, you'll be ready to feel fully alive!" —Daniel J. Siegel, MD, director, the Mindsight Institute, and author of The Mindful Brain
"Brimming with heart and soul, and scientifically sound, Living Like You Mean It is a brilliant book for anyone wanting to get unstuck and live a happier, more fulfilling life." —Marci Shimoff, NY Times bestselling author of Happy for No Reason
"Ron Frederick is a master therapist and a gifted teacher. With energy and passion, he guides the reader through the vibrant inner landscape of the emotions. The tools and insights he offers can help prevent depression and anxiety. Even more, they point the way toward a vital and engaged life—a life fully lived." —Henry Emmons, MD, author of The Chemistry of Joy
"Where shall we run if we run from ourselves? This book asks us to look anew at our models of health and happiness and to realize that personal liberation is not possible if we are not at liberty to feel what we feel. Through stories and examples, Ron Frederick walks us through that issue in a way that is simple, clear, and focused and that has a chance to fundamentally change human lives." —
Steven C. Hayes
, PhD, University of Nevada, author of Get Out of Your Mind and Into Your Life
"Written like he means it—and clearly he does—Ron Frederick's book is a gift, written by a master clinician and an amazing person. His heart and soul, his humor and sparkling intelligence, his pathos and practicality, are all there from the great title to the very last word. Down to earth and with a twinkle in his eyes, Ron Frederick is the guide and companion you have been looking for. As he passionately makes clear: you can shed your resignation and vitality and joy can be yours again. And as you journey to reconnect with yourself and those you love—you will not be alone. Step by step, you feel him with you, steady and wise. What a great book! I will recommend it to my patients and friends alike. And, what's more, I can't wait to read it again." —Diana Fosha, PhD, Director of the AEDP Institute. author of The Transforming Power of Affect
"Dr. Frederick's wise and powerful book is an inspiration. It is also a practical guide to help us feel more deeply, face our fears more confidently, and live each moment more fully." —Dr. Larina Kase, Author of The Confident Leader: How the Most Successful People Go from Effective to Exceptional, and the New York Times Bestseller The Confident Speaker
"Dr. Frederick's first book demonstrates his gift of communicating in an accessible, human, meaningful manner about one of life's most important mysteries—the true value and purpose of our emotions. He shows us how to navigate the guidance system they provide on the road to happiness, fulfillment and depth in our lives. Hopefully, this will be the first of many books from this gifted writer." —Joseph Bailey, Licensed psychologist and bestselling author of Fearproof Your Life and Slowing Down to the Speed of Life
"It is a delight to read a book on emotions that integrates so much of the cutting edge research in brain, body, mind and attachment. Ron Fredrick has managed to take difficult concepts and translate them into language that is understandable. This is a book for those who seek to reconnect with their own emotions, and with the emotions of people they care about. I highly recommend "Living Like You Mean It." —Marion Solomon, PhD, Director of Clinical Training, Lifespan Learning Institute. author of Lean on Me