A Coach's Guide to Developing Exemplary Leaders: Making the Most of The Leadership Challenge and the Leadership Practices Inventory (LPI)
ISBN: 978-0-470-37711-6
384 pages
July 2010, Pfeiffer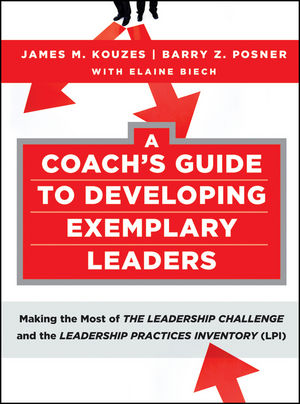 Kouzes' and Posner's bestselling The Leadership Challenge has been the most trusted source for becoming a better leader for millions of executives. This new guide from Kouzes and Posner, written in conjunction with coaching experts Elaine Biech, provides practical information and tools for integrating The Practices of Exemplary Leadership into a coaching practice or program. Filled with best practices and success stories as well as worksheets and checklists, this comprehensive resource enables coaches to quickly and easily adapt their coaching regimen to include The Leadership Challenge and the Leadership Practices Inventory (LPI).
See More
Part I: Coaching to Improve the Five Practices.
Chapter 1 Accept the Leadership Challenge.
Chapter 2 Coaching to Model the Way.
Chapter 3 Coaching to Inspire a Shared Vision.
Chapter 4 Coaching to Challenge the Process.
Chapter 5 Coaching to Enable Others to Act.
Chapter 6 Coaching to Encourage the Heart.
Part II: Improve Your Coaching Competence.
Chapter 7 Coaching for Success.
Chapter 8 Coaching Competencies.
Chapter 9 The Coaching Process.
Chapter 10 Coaching When Things Go Awry.
Chapter 11 Coach Yourself to Mastery.
Reading List for Coaches.
Index.
About the Authors.
See More
JAMES M. KOUZES
and
BARRY Z. POSNER
are the bestselling coauthors of
The Leadership Challenge
,
The Truth About Leadership
,
A Leader's Legacy
,
Credibility
,
Encouraging the Heart
, and
The Leadership Challenge Workbook
, and over a dozen other books and workbooks on leadership. They also developed the highly-acclaimed Leadership Practices Inventory (LPI), a 360-degree assessment tool based on The Five Practices. They are among the most sought-after scholars and educators on the subjects of leadership and leadership development.
ELAINE BIECH is president and managing principal of ebb associates, inc, a strategic implementation, leadership development, and experiential learning consulting firm. She is also the author of over four dozen books and articles including Training for Dummies. Her website can be found at www.ebbweb.com.
See More