E-book
PC User's Bible
ISBN: 978-0-470-37767-3
854 pages
February 2008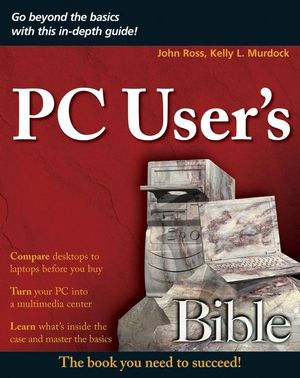 The perfect go-to reference to keep with your PC
If you want to get the most out of your PC, you've come to the right source. This one-stop reference-tutorial is what you need to succeed with your Windows Vista or Windows XP computer, whether it's a desktop or a laptop. From setting up your PC to using it for games and multimedia to keeping it running smoothly, this comprehensive guide explains it all with clear, step-by-step instructions, tips from power users, and much more. Keep this valuable book on hand and power up with confidence!
Understand your PC's components, inside and out
Set up sound cards, speakers, and other audio gadgets
Put a firewall in place and apply other security software
Explore Microsoft(r) Windows and learn about options for other operating systems
Play and create music, videos, podcasts, and more
Print, scan, fax, make presentations, and download photos
Protect your PC against theft, damage, and eavesdroppers
Explore common troubleshooting issues and their solutions
See More
Acknowledgments.
Introduction.
Part I: Choosing Your Computer.
Chapter 1: Desktop or Laptop?
Chapter 2: Evaluating the Warranty and Support.
Chapter 3: Buying a Computer.
Part II: Understanding Your Computer's Components.
Chapter 4: Looking Inside the Case.
Chapter 5: How Your Computer Computes.
Chapter 6: The Central Processing Unit.
Chapter 7: Random Access Memory.
Chapter 8: Understanding the BIOS.
Chapter 9: Hard Drives and Other Storage Media.
Chapter 10: Understanding Graphics Controllers.
Chapter 11: Video Monitors.
Chapter 12: Keyboards, Mice, and Other Input Devices.
Chapter 13: Sound Cards, Speakers, and Other Audio.
Chapter 14: Using USB and FireWire Interfaces.
Chapter 15: Using Bluetooth.
Part III: Using Your Desktop Computer.
Chapter 16: Exploring Your Desktop Computer.
Chapter 17: Managing Power on a Desktop Computer.
Chapter 18: Overclocking Your Computer.
Part IV: Using Your Laptop Computer.
Chapter 19: Choosing a Laptop Computer.
Chapter 20: Finding Your Way Around Your Laptop Computer.
Chapter 21: Managing Power on a Laptop Computer.
Chapter 22: Using External Devices with a Laptop.
Chapter 23: Connecting Your Laptop to the Internet.
Chapter 24: PC Cards and ExpressCards.
Chapter 25: Laptop Accessories.
Chapter 26: Traveling with Your Laptop.
Part V: Improving Your Computer's Performance.
Chapter 27: Setting Up Your Computer.
Chapter 28: Enhancing the View.
Chapter 29: Ergonomics: Making the Most of Bad Design.
Chapter 30: Accessibility.
Part VI: Putting Your Computer to Work.
Chapter 31: Working with Microsoft Windows.
Chapter 32: Essential Software.
Chapter 33: Alternatives to Windows.
Chapter 34: Sharing a Computer.
Chapter 35: Printing from Your Computer.
Chapter 36: Making Presentations.
Chapter 37: Scanning to Your Computer.
Chapter 38: Using Your Computer with a Digital Camera.
Chapter 39: Scheduling Software Events.
Chapter 40: Synchronizing Your Data Files.
Chapter 41: Using Windows Remote Desktop.
Chapter 42: Playing, Creating, and Editing Sound.
Chapter 43: Viewing, Creating, and Editing Video.
Part VII: Using Your Computer for Communications.
Chapter 44: Connecting Your Computer to a Network or Another Computer.
Chapter 45: Sending and Receiving Faxes.
Chapter 46: Using Your Computer on the Internet.
Chapter 47: Using Virtual Private Networks.
Part VIII: Security and Maintenance.
Chapter 48: Keeping Your Computer and Data Secure.
Chapter 49: Preventing Trouble Through Maintenance.
Chapter 50: Restoring Windows.
Chapter 51: Troubleshooting: Finding the Problem After It Happens.
Index.
See More
John Ross
has been working with and writing about computers and networks since the late 1960s. He has authored more than a dozen books about computers, networks, and the Internet for major publishers including Random House, Sybex, IDG Books, Microsoft Press, No Starch Press and Sunset Books, and has been a contributor to many others. He has also written technical manuals, white papers, and marketing material about network and telecommunications equipment, marine electronics, and broadcast equipment for many corporations including Motorola and AT&T.
As a sound archivist, John Ross works with broadcasters, music festivals, and folklore societies in the Pacific Northwest to restore, catalog, and preserve old audio-tape recordings and convert them to modern digital formats. He has also produced radio news and feature reports for National Public Radio, the BBC, Radio New Zealand, and other broadcasters around the world. On his own time, he collects folk music, restores antique toy trains, and makes hard cider. John Ross lives in a 100-yearold house in Seattle, which he is gradually restoring and updating to twenty-first century technology.
Kelly Murdock is the author of multiple titles including the 3ds Max Bible (recently published in its seventh edition), Adobe Creative Suite Bible, Maya Reveled, and Poser Revealed (all in their second editions) along with numerous other graphics and Web-related titles including Edgeloop Character Modeling, 3D Game Animation For Dummies, Master VISUALLY HTML and XHTML, and JavaScript Visual Blueprint.
See More