E-book
Biochemistry For Dummies
ISBN: 978-0-470-37841-0
342 pages
August 2008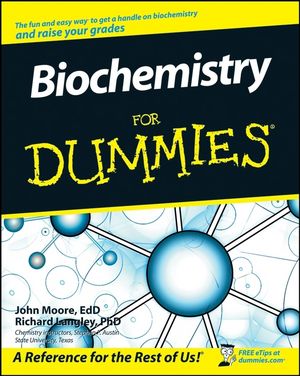 Are you baffled by biochemistry? You're not the first, and you won't be the last. Here's the good news — you don't have to stay baffled!
Biochemistry For Dummies
shows you the fun and easy way to get a handle on biochemistry, apply the science, raise your grades, and prepare yourself to ace any standardized test.
This friendly, unintimidating guide presents an overview of the material covered in a typical college-level biochemistry course and makes biochemistry basics easy to understand. It explains all the topics and practical applications in plain English. From cell ultrastructure and carbohydrates to amino acids, proteins, and supramolecular structure, you'll identify biochemical structures and reactions, send your grades soaring, and start looking forward to your next class, instead of dreading it. Discover how to:
Master biochemistry basics
Work through biochemistry problems
Prepare for standardized tests
Grasp amino acid and protein structures
Nail down enzyme terminology
Get a grip on the Michaelis-Menton equation
Load up on carbo knowledge
Crack the nucleic acid code
Learn to love lipids — but not too much
Master the ABCs of vitamins
Apply biochem in everyday life
Explore a career in the field
From water chemistry to protein synthesis Biochemistry For Dummies gives you the vital information, clear explanations, and important insights you need to increase your understanding and improve your performance on any biochemistry test.
See More
Introduction.
Part I: Setting the Stage: Basic Biochemistry Concepts.
Chapter 1: Biochemistry: What You Need to Know and Why.
Chapter 2: Dive In: Water Chemistry.
Chapter 3: Fun with Carbon: Organic Chemistry.
Part II: The Meat of Biochemistry: Proteins.
Chapter 4: Amino Acids: The Building Blocks of Protein.
Chapter 5: Protein Structure and Function.
Chapter 6: Enzymes Kinetics: Getting There Faster.
Part III: Carbohydrates, Lipids, Nucleic Acids, and More.
Chapter 7: What We Crave: Carbohydrates.
Chapter 8: Lipids and Membranes.
Chapter 9: Nucleic Acids and the Code of Life.
Chapter 10: Vitamins and Nutrients.
Chapter 11: Be Quiet: Hormones.
Part IV: Bioenergetics and Pathways.
Chapter 12: Life and Energy.
Chapter 13: ATP: The Body's Monetary System.
Chapter 14: Smelly Biochemistry: Nitrogen in Biological Systems.
Part V: Genetics: Why We Are What We Are.
Chapter 15: Photocopying DNA.
Chapter 16: Transcribe This! RNA Transcription.
Chapter 17: Translation: Protein Synthesis.
Part VI: The Part of Tens.
Chapter 18: Ten Great Applications of Biochemistry.
Chapter 19: Ten Biochemistry Careers.
Index.
See More
John Moore
grew up in the foothills of Western North Carolina. He attended the University of North Carolina at Asheville, where he received his bachelor's degree in chemistry. He earned his master's degree in chemistry from Furman University in Greenville, South Carolina. After a stint in the United States Army, he decided to try his hand at teaching. In 1971, he joined the chemistry faculty of Stephen F. Austin State University in Nacogdoches, Texas, where he still teaches chemistry. In 1985 he started back to school part time and in 1991 received his doctorate in education from Texas A&M University. For the last five years has been the co-editor (along with one of his former students) of the "Chemistry for Kids" feature of
The Journal of Chemical Education
. In 2003, his first book,
Chemistry For Dummies
, was published, soon to be followed by
Chemistry Made Simple
. John enjoys cooking and making custom knife handles from exotic woods.
Richard Langley grew up in southwestern Ohio. He attended Miami University in Oxford, Ohio, where he received bachelor's degrees in chemistry and mineralogy and then a master's degree in chemistry. His next stop was the University of Nebraska, where he received his doctorate in chemistry. Afterwards, he took a postdoctoral position at Arizona State University in Tempe, Arizona, followed by a visiting assistant professor position at the University of Wisconsin at River Falls. In 1982, he moved to Stephen F. Austin State University. For the past several years, he and John have been graders for the Free Response portion of the AP Chemistry Exam. He and John have collaborated on several writing projects, including 5 Steps To A 5 on the AP: Chemistry and Chemistry for the Utterly Confused. Rich enjoys jewelry making and science fiction.
See More