A Year Without "Made in China": One Family's True Life Adventure in the Global Economy
ISBN: 978-0-470-37920-2
256 pages
October 2008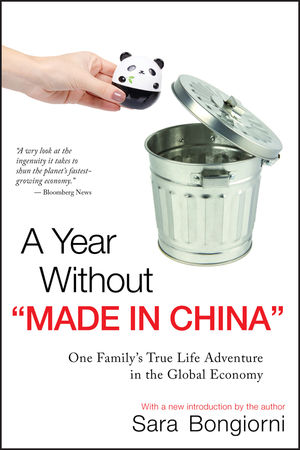 A Year Without "Made in China" provides you with a thought-provoking and thoroughly entertaining account of how the most populous nation on Earth influences almost every aspect of our daily lives. Drawing on her years as an award-winning journalist, author Sara Bongiorni fills this book with engaging stories and anecdotes of her family's attempt to outrun China's reach–by boycotting Chinese made products–and does a remarkable job of taking a decidedly big-picture issue and breaking it down to a personal level.
See More
Foreword.
Acknowledgments.
Introduction.
Chapter One: Farewell, My Concubine.
Chapter Two: Red Shoes.
Chapter Three: Rise and China.
Chapter Four: Manufacturing Dissent.
Chapter Five: A Modest Proposal.
Chapter Six: Mothers of Invention.
Chapter Seven: Summer of Discontent.
Chapter Eight: Red Tide.
Chapter Nine: China Dreams.
Chapter Ten: Meltdown.
Chapter Eleven: The China Season.
Chapter Twelve: Road's End.
Epilogue.
About the Author.
Index.
See More
Sara Bongiorni is a writer and journalist who has worked at news-papers and business publications in California and Louisiana. Her "beat" has included international trade and its impact on local economies. Bongiorni has won local, state, and national awards for her articles, including a 2002 Best in Business award from the Society of American Business Editors and Writers for her part in a series on the impact of out-migration on the Louisiana economy. Bongiorni graduated from the University of California, San Diego, and holds a master's degree in journalism from Indiana University.
See More