The Battle Over the Meaning of Everything: Evolution, Intelligent Design, and a School Board in Dover, PA
ISBN: 978-0-470-37931-8
240 pages
April 2008, Jossey-Bass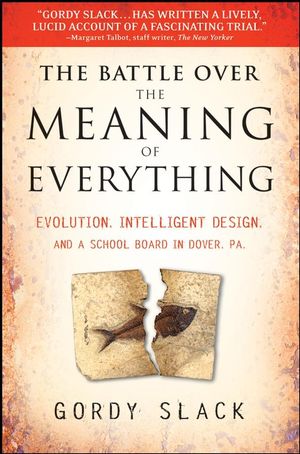 A compelling eyewitness account of the recent courtroom drama in Dover, Pennsylvania that put evolution on trial.
Journalist Gordy Slack offers a riveting, personal, and often amusing first-hand account that details six weeks of some of the most widely ranging, fascinating, and just plain surreal testimony in U.S. legal history—a battle between hard science and religious conservatives wishing to promote a new version of creationism in schools.
During the Kitzmiller vs. Dover Areas School Board trial,  the members of the local school board defended their decision to require teachers to present intelligent design  alongside evolution as an explanation for the origins and diversity of life on earth. The trial revealed much more than a disagreement about how to approach science education. It showed two essentially different and conflicting views of the world and the lengths some people will go to promote their own. The ruling by George W. Bush-appointed Judge John Jones III was unexpected in its stridency: Not only did he conclude that intelligent design was religion and not science and therefore had no place in a science classroom, he scolded the school board for wasting public time and money.
A sophisticated examination of the deep cultural, religious, and political tensions that continue to divide America, The Battle Over the Meaning of Everything is also journalist Gordy Slack's personal and engaging story of the high drama and unforgettable characters on both sides of the courtroom controversy. 
Gordy Slack (Oakland, CA) has been writing about science and evolutionary biology for 15 years. He is a regular commentator on KQED, an affiliate of NPR, and his articles have appeared in Mother Jones, Salon.com, Wired, California Wild, the San Francisco Chronicle, and many other publications.

See More
Prologue.
Chapter 1: The Takeover.
Chapter 2: The Train to Dover.
Chapter 3: The Theory Is Not a Fact.
Chapter 4: Assembling Goliath.
Chapter 5: Thomas More and ID Lite.
Chapter 6: ID Heavy and the Wedge.
Chapter 7: Down by Law.
Chapter 8: Search and Replace.
Chapter 9: The Varieties of Materialistic Experience.
Chapter 10: The Flagellar Fandango.
Chapter 11: Liars for Christ.
Chapter 12: The Unraveling.
Chapter 13: The Fortieth Day.
Chapter 14: The People's Court and the Gospel According to John Jones.
Chapter 15: Afterword.
Notes.
Acknowledgments.
About the Author.
Index.
See More