E-book
Getting Started in Currency Trading: Winning in Today's Hottest Marketplace, 2nd Edition
ISBN: 978-0-470-37943-1
288 pages
September 2008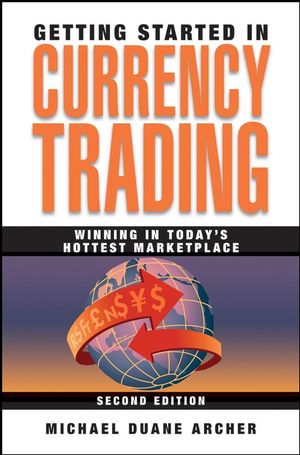 While the Foreign Exchange (FOREX) market can be a very profitable place, you must have a firm understanding of how to operate within this environment if you intend on achieving any success. That's why you need Getting Started in Currency Trading, Second Edition. This reliable resource-written for both newcomers and those with some FOREX experience-puts trading world currencies in perspective, and shows you exactly what it takes to make it in this field. Topics include:
The rapidly expanding and evolving online trading marketplace for spot currencies, generally referred to as retail FOREX
The process of initiating and liquidating a live market order
The advantages and disadvantages of fundamental and technical analysis
The wealth of FOREX products and services now available from third-party vendors
The psychology of trading and the stresses that may accompany this endeavor
Advanced strategies such as options, exotics, and arbitrage
See More
Acknowledgments.
Introduction.
About this Book.
How this Book is Organized.
Diclaimer.
Part 1: The Foreign Exchange Markets.
Chapter 1. The FOREX Landscape.
Chapter 2. A Brief History of Currency Trading.
Chapter 3. Spot or Futures FOREX?
Part 2: Getting Started.
Chapter 4. The Regulatory Environment.
Chapter 5. The FOREX Lexicon.
Chapter 6. The Calculating Trader.
Chapter 7. Selecting the Right FOREX Broker for You.
Chapter 8. Opening a FOREX Account.
Chapter 9. Pulling the Trigger.
Part 3: The Tools of the Trade.
Chapter 10. Fundamental Analysis.
Chapter 11. Technical Analysis.
Chapter 12. The Toolbox Approach.
Chapter 13. The FOREX Marketplace.
Part 4: The Complete Forex Trader.
Chapter 14. Psychology of Trading.
Chapter 15. Money Management Made Simple.
Chapter 16. Tactics and Strategy.
Chapter 17. When and How to Regroup.
Chapter 18. For the Record.
Part 5: Extra for Experts.
Chapter 19. Options and Exotics.
Chapter 20.The Final Frontiers.
Appendix A. How the FOREX game is Played.
Appendix B. Retail FOREX Regulations-CFTC Reauthorization Act of 2005.
Appendix C. List of World Currencies and Symbols.
Appendix D. Major Currency Cross Rates.
Appendix E. Euro Currency Unit.
Appendix F. Time Zones and Global Banking Hours.
Appendix G. Central Banks and Regulatory Agencies.
Appendix H. Resources.
Glossary.
Index.
See More
Michael Duane Archer has been an active commodity futures and FOREX trader for over thirty years. He has worked in various advisory capacities, notably as a commodity trading advisor and an SEC-registered investment advisor. Archer operates www.fxpraxis.com and is a professional FOREX money manager. He is also the author of Getting Started in Forex Trading Strategies and coauthor of the first edition of Getting Started in Currency Trading, The Forex Chartist Companion, and Charting the Major Forex Pairs, all published by Wiley.
See More