Canon EOS Rebel XSi/450D Digital Field Guide
ISBN: 978-0-470-38087-1
288 pages
July 2008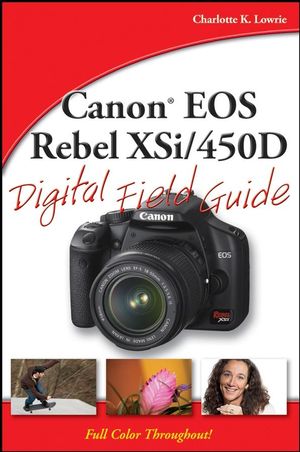 Your Digital Rebel XSi/450D, with its 12.2 megapixel resolution, 3-inch view screen, and the option for "Live View" shooting, is designed for simplicity without sacrificing creative freedom. This guide is ideal for helping you use that creative control and get great shots anywhere, anytime. If you're new to dSLRs, it makes the transition easy. If you're already comfortable with the various modes and settings, the book helps you make the most of every one.
Set up your camera and learn when to choose automatic, semi-automatic, and manual modes
Understand the camera's controls, menus, and when to use different metering and autofocus modes
Explore Canon Picture Styles and custom functions
Learn to manipulate ISO, exposure, depth of field, and shutter speed
Create intriguing night and low-light images, capture sports action, portraits, and get tips for better macro photography
See More
Part I: Using the Rebel XSi/450D.
Chapter 1: Exploring and Setting Up the Digital Rebel XSi/450D.

Chapter 2: Using the Rebel XSi/450D.

Chapter 3: Using White Balance and Picture Styles.

Chapter 4: Using Live View 83 About Live View.

Chapter 5: Customizing the Rebel XSi/450D.

Part II: Creating Great Photographs with the Rebel XSi/450D.

Chapter 6: The Fundamentals of Light and Exposure.

Chapter 7: Using Flash.

Chapter 8: Exploring Canon Lenses.

Chapter 9: In the Field with the Rebel XSi/450D.

Part III: Appendixes.

Appendix A: Downloading.

Appendix B: Exploring.

Glossary.

Index.
See More
Charlotte K. Lowrie is a freelance stock, editorial, and portrait photographer, and she is an award-winning writer. Her images have been featured on the Canon Digital Learning Center, in Microsoft publications, and in national magazines. Charlotte teaches photography classes at BetterPhoto.com, and she is the author of nine books including the bestselling Canon EOS Digital Rebel XTi Digital Field Guide and four other Canon Digital Field Guides. Visit her Web site at wordsandphotos.org.
See More