Textbook
Wedding Cake Art and Design: A Professional Approach
ISBN: 978-0-470-38133-5
288 pages
April 2010, ©2010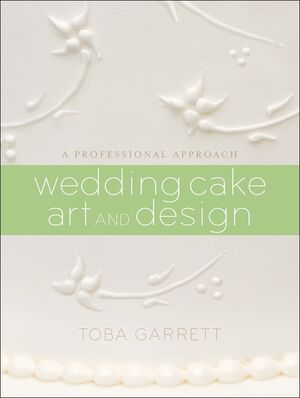 Rather than simply including beautiful wedding cakes for cake decorators and students to copy, Garrett educates readers to design cakes based on their own creativity and their client's unique needs instead. Starting with a look at the design process, Garrett then moves from simple cake designs to elegant, elaborate, whimsical, and theme cakes. Each chapter includes scenarios for student practice with expert guidance from the author. The essential topic of setting up a wedding cake business is covered, and it also includes tested recipes and helpful resources.
See More
CHAPTER ONE Designing the cake 1
CHAPTER TWO Creative designs 15
CHAPTER THREE Romantic designs 35
CHAPTER FOUR Textured designs 59
CHAPTER FIVE Modern designs 79
CHAPTER SIX Wedgwood-inspired designs 91
CHAPTER SEVEN Chocolate designs 111
CHAPTER EIGHT Seasonal designs 121
CHAPTER NINE Fashion-inspired designs 139
CHAPTER TEN Floral designs 153
CHAPTER ELEVEN Textile-inspired designs 171
CHAPTER TWELVE Setting up a cake design business 183
CHAPTER THIRTEEN Recipes and flavor combinations 193
APPENDIX Templates and cake-cutting guide
See More
Toba Garrett is head of the Department of Cake Decorating and Design at the Institute of Culinary Education in New York City. She is a member of the International Cake Exploration Societé and former president of the Confectionary Arts Guild of New Jersey. She is also the author of Professional Cake Decorating, The Well-Decorated Cake, and Creative Cookies: Delicious Decorating for Any Occasion.
See More
March 19, 2010
Wedding Cake Art and Design: A Professional Approach
Connect with Wiley Publicity
Combining inspirational cake designs, step-by-step decorating instruction, and advice on the fundamentals of running a successful cake business in a competitive market.
Wedding Cake Art and Design: A Professional Approach is an invaluable guide for industry professionals and students. Master cake decorator Toba Garrett includes stunning designs for cakes inspired by textiles, seasons, fashion colors, flowers, and much more, and gives decorators the tools to translate their own clients' ideas into creative new designs. Special features include:
Decorating techniques ranging from simple to advanced are explained in a clear, fully-illustrated, step-by-step format
Sample scenarios included throughout the book show readers how to handle a client consultation and how to create appropriate cakes for every client's budget, theme, and creative needs
Nearly 200 beautiful full-color photographs showcase finished cakes and illustrate key decorating techniques, while full-color illustrations provide insight into the professional decorator's creative process
Garrett is one of the country's foremost artists in the field of cake decorating and the founder of the Institute for Culinary Education's Department of Cake Decorating and Design, where she now serves as master chef instructor and where she has trained some of the top cake artists in the world.

A must-have for professional cake decorators, baking and pastry students, and even advanced cake decorating hobbyists, Wedding Cake Art and Design is the only resource a decorator needs to design, plan, and execute picture-perfect wedding cakes for every client, every time.
See More
Instructors Resources
Request a print evaluation copy
Contact us

Contact your Wiley Representative
Find Your Rep

See More
See Less
Learn more about