Expert WSS 3.0 and MOSS 2007 Programming
ISBN: 978-0-470-38137-3
Paperback
816 pages
October 2008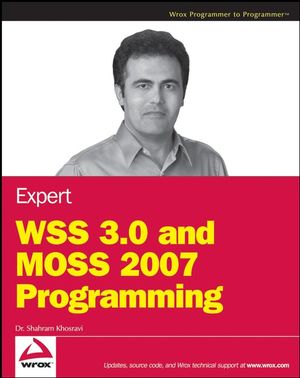 This title is out-of-print and not currently available for purchase from this site.
Other Available Formats:
E-book
Windows SharePoint Services 3.0 (WSS) is a built-in feature of Windows Server that allows for the development of collaborative business applications. Microsoft Office SharePoint Server 2007 (MOSS) is an integrated server offering that leverages the WSS 3.0 features of Windows Server and adds an additional 100+ collaborative features. With WSS 3.0 and MOSS 2007 combined, you can create a variety of highly collaborative business applications. Using numerous practical, real-world examples, this book discusses implementing custom master pages, programming against site pages, implementing custom application pages, developing custom server controls, and extending existing controls.