The Little Book of Bull Moves in Bear Markets: How to Keep Your Portfolio Up When the Market is Down
ISBN: 978-0-470-38378-0
304 pages
October 2008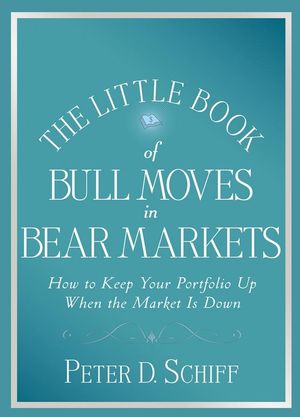 Written by seasoned Wall Street prognosticator Peter Schiff–author of the bestselling book Crash Proof: How to Profit from the Coming Economic Collapse–The Little Book of Bull Moves in Bear Markets reveals how you should protect your assets and invest your money when the American economy is experiencing perilous economic downturns and wealth building is happening elsewhere. Filled with insightful commentary, inventive metaphors, and prescriptive advice, this book shows you how to make money under adverse market conditions by using a conservative, nontraditional investment strategy.
See More
Foreword by Marc Faber.
Author's Note.
Introduction.
Chapter One: Let's Do the Time Warp Again.
Chapter Two: Saving Your Assets.
Chapter Three: Beware of False Prophets.
Chapter Four: Of Babies and Bathwater.
Chapter Five: Hot Stuff.
Chapter Six: The Ring in the Bull's Nose.
Chapter Seven: Weathering the Storm.
Chapter Eight: Favorite Nations.
Chapter Nine: If You Want to Roll the Dice.
Chapter Ten: To Infinity and Beyond.
Chapter Eleven: A Decade of Frugality.
Chapter Twelve: Pack Your Bags.
Chapter Thirteen: The Light at the End of the Tunnel.
See More
Peter D. Schiff is President of Euro Pacific Capital, Inc., and one of the few unbiased investment advisors to have predicted the current bear market and positioned his clients accordingly. Schiff appears frequently on Fox News, Fox Business News, CNN, CNBC, and Bloomberg TV, and has been quoted in such publications as the Wall Street Journal, Barron's, the Financial Times, and the New York Times. He is also the author of Crash Proof, which is published by Wiley.
See More