Training Workshop Essentials: Designing, Developing, and Delivering Learning Events that Get Results
ISBN: 978-0-470-38545-6
464 pages
June 2009, Pfeiffer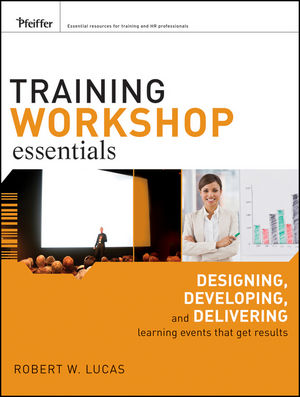 Winner: Gold Axiom Business Book Award in Human Resources, 2010
This unique training resource offers trainers, educators, and facilitators a hands-on guide for designing and implementing training workshops and sessions that incorporate concepts learned from research on how the human brain best obtains, retains, and recalls information. By using this proven approach, trainers can create memorable workshops that are dynamic, fun, and effective events.
The author shows how to design, develop, and deliver training from a whole-brain perspective that addresses the three different learning modalities (auditory, visual, and kinesthetic). Trainers can tap into accelerated learning strategies, address needs of different generational and diverse learners, and employ learner-tested techniques by applying key concepts from this book.
This important book covers all the basics including selecting a topic specifically to address audience needs. It provides a step-by-step process for creating an outline, designing, developing, and using brain-friendly support materials, choosing the appropriate location (with the right equipment and furnishings), choosing the best time and date, and offers tips for presenting the content to learners in a creative and professional manner.
Training Workshop Essentials offers brain-based strategies and techniques that go beyond typical training methods. These approaches will reach out and pull learners into the session's content and allow them to truly experience and retain the information long after the training ends.
See More
List of Figures, Exhibits, and Tables.
Preface.
Acknowledgments.
Introduction.
PART I: BUILDING A POWERFUL WORKSHOP.
Chapter 1: Making Learning Effective.
Chapter 2: Addressing the Needs of Your Learners.
Chapter 3: Creating a Dynamic Workshop Design.
PART II: FOCUSING ON YOUR LEARNERS.
Chapter 4: Using Brain-Based Research to Enhance Learning.
Chapter 5: Engaging Your Learners.
PART III: GETTING READY TO TRAIN.
Chapter 6: Looking Like a Consummate Training Professional.
Chapter 7: Putting Power into Training Aids.
Chapter 8: Preparing to Share Your Knowledge.
PART IV: MAKING THE WORKSHOP A SUCCESS.
Chapter 9: Keeping the Learning Going.
Chapter 10: Ending on a High Note.
Bibliography.
Resources.
Index.
Training Information.
About the Author.
See More
Robert W. Lucas is the president of Creative Presentation Resources, a creative training and products company and the founding managing partner for Global Performance Strategies, LLC,an organization specializing in performance-based training and consulting services. He is the author of Creative Learning: Activities and Games That REALLY Engage People, The Creative Training Idea Book, The BIG Book of Flip Charts, and Customer Service Skills for Success.
See More