Civic Engagement in Higher Education: Concepts and Practices
ISBN: 978-0-470-38846-4
288 pages
January 2009, Jossey-Bass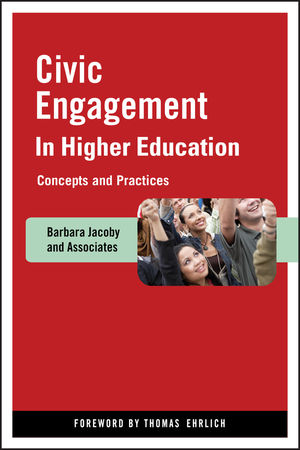 Numerous studies have chronicled students lack of trust in large social institutions, declining interest in politics, and decreasing civic skills. This book is a comprehensive guide to developing high-quality civic engagement experiences for college students. The book defines civic engagement and explains why it is central to a college education. It describes the state of the art of education for civic engagement and provides guidelines for designing programs that encourage desired learning outcomes. In addition, the book guides leaders in organizing their institutions to create a campus-wide culture of civic engagement.
See More
Foreword by Thomas Ehrlich.
Preface.
Acknowledgments.
The Authors.
Introduction.
1. Civic Engagement in Today's Higher Education: An Overview (Barbara Jacoby).
2. What We Know about Civic Engagement among College Students (Mark Hugo Lopez and Abby Kiesa).
3. Educating Students for Personal and Social Responsibility: The Civic Learning Spiral (Caryn McTighe Musil).
4. Civic Engagement in the First College Year (Mary Stuart Hunter and Blaire L. Moody).
5. Engaging General Education (Kim Spiezio).
6. The Influence of Integrative and Interdisciplinary Learning on Civic Engagement (Nance Lucas).
7. Capstone Experiences (Kevin Kecskes and Seanna Kerrigan).
8. Enhancing Intercultural Competence through Civic Engagement (Michelle R. Dunlap and Nicole Webster).
9. Leadership Education and the Revitalization of Public Life (Nicholas V. Longo and Marguerite S. Shaffer).
10. Moving from Service-Learning to Civic Engagement (Marshall Welch).
11. Community-Based Undergraduate Research: Collaborative Inquiry for the Public Good (Elizabeth L. Paul).
12. Global Civic Engagement (Barbara Jacoby and Nevin C. Brown).
13. Securing the Future of Civic Engagement in Higher Education (Barbara Jacoby and Elizabeth Hollander).
Index.
See More
Barbara Jacoby is senior scholar for the Adele H. Stamp Student Union Center for Campus Life at the University of Maryland, College Park, where she also serves as chair of the Coalition for Civic Engagement and Leadership. She is the author or editor of five books, including Service-Learning in Higher Education, Involving Commuter Students in Learning, and Building Partnerships for Service-Learning, all from Jossey-Bass. Jacoby is a sought-after speaker and consultant on civic engagement and service-learning.
See More
Learn more about