Ceramic Integration and Joining Technologies: From Macro to Nanoscale
ISBN: 978-0-470-39122-8
Hardcover
830 pages
October 2011
US $175.00

Add to Cart
This price is valid for United States. Change location to view local pricing and availability.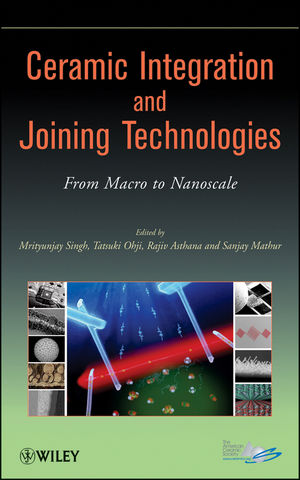 Other Available Formats:
E-book
Introduction.
1. Ceramic integration across length scales: Technical issues, challenges, and opportunities (M. Singh, T. Ohji, R. Asthana and S. Mathur).
Science and Technology for Macro-Scale Integration.
2. Ceramic component integration by advanced brazing technologies(Jolanta Janczak-Rusch).
3. Joining and integration issues of ceramic matrix composites for nuclear industry (Monica Ferraris, Milena Salvo, Valentina Casalegno).
4. Air Brazing: A New Method of Ceramic-Ceramic and Ceramic-Metal Joining (K. S. Weil, J. T. Darsell, J. Y. Kim).
5. Diffusion bonding of silicon carbide as an enabling technology for the fabrication of complex-shaped ceramic components (Michael C. Halbig, Mrityunjay Singh).
6. Joining and integration of C/C composite to metals for thermal management applications (Mrityunjay Singh, Rajiv Asthana).
7. Contact interaction in carbon-metal systems for joining and integration (V. M. Oerevertailo, O. B. Loginova).
Integration Issues in Energy Generation and Device Fabrication.
8. Integration Technologies for Ferrites and Power Inductors in Ceramic Circuit Boards (Richard Matz).
9. Oxide Thermoelectric Power Generation (Ryoji Funahashi, Saori Urata, Atsuko Kosuga, Delphine Flahaut).
10. Integration technologies for solid oxide fuel cells (SOFC) and other electrochemical reactors (Yoshinobu Fujishiro, Toshio Suzuki, Toshiro Yamaguchi, Koichi Hamamoto, Masanobu Awano, Nigel Sammes).
11. Integration technologies for sensors (Woosuck Shin, Maiko Nishibori, Ichiro Matsubara).
12. On-chip integration of functional hybrid materials and components in nanophotonics and optoelectroincs (Talha Erdem, Hilmi Volkan Demir).
13. Integration of Multifunctional Properties in Thermal Barrier Coatings by Chemical Vapor Deposition (Takashi Goto).
14. The Changing physics in metal interconnect reliability (Cher Ming Tan, Yuejin Hou).
15. Integration Issues of Barium Strontium Titanate Thin Film Tunable Microwave Applications (Askok Kumar, Supriya Ketkar, Venkataraman Gurumurthy).
16. Aerosol Depostion (AD) integration techniques and its application to "On-Demand MEMS" (Jun Akedo).
Nano and Bio Integration.
17. Advances in nano-integration  methodologies: Patterning, positioning and self-assembly (Yoshitake Masuda, Kunihito Koumoto.
18. Integration of Nanowires in New Devices and Circuit Architectures: Challenges and Recent Developments (F. Hernández-Ramírez, J. D. Prades, A Romano-Rodriguez, S. Barth, H. Shen, S. Smathur).
19. Integrating Diamond-like carbon into Nanostructure Designs (Fabricating Micro and Nanoscale Architectures of Diamond-like Carbon Films (Xijun Li, Daniel H. C. Chua).
20. Synthesis, Properties, Integration and Applications of Vertically Aligned Ceramic Nanostructures (D. Pliszka, S. Sundarrajan, S. Ramakrishna).
21. Nanointegration based on thin film technology (C. Jin, W. Wei, R. Aggarwal, R. J. Narayan).
22. Mass-manufacturable Nonowire Integration: Challenges and Recent Developments (Ataur Sarkar, M. Saif Islam).
23. Usability of Inkjet Printing Technology and Nanometarials in Electrical Interconnections, Electronic Packaging, and System Integration for Microelectronics Applications (Umur Caglar, Ville Pekkanen, Jani Valkama, Pauliina Mansikkamäki, Jussi Pekkanen).
24. Bio-integration of prosthetic devices (Masakazu Kawashita, Toshiki Miyazaki, Chikara Ohtsuki).