Textbook
Strategic Planning for Public and Nonprofit Organizations: A Guide to Strengthening and Sustaining Organizational Achievement, 4th Edition
ISBN: 978-0-470-39251-5
576 pages
July 2011, ©2011, Jossey-Bass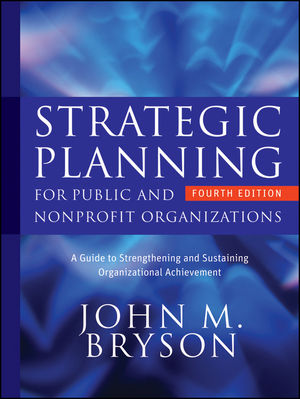 Praise for Strategic Planning for Public and Nonprofit Organizations
"This is an immensely valuable resource for leaders, professionals, researchers, and other participants in public and nonprofit settings. Anyone professing competence in public and nonprofit management needs to know what Bryson says about strategic planning and management." —Hal G. Rainey, Alumni Foundation Distinguished Professor, University of Georgia; author, Understanding and Managing Public Organizations, Fourth Edition
"John Bryson recognizes that strategic management is what is called for today—meaning strategic planning must be linked to leadership, stakeholder involvement, the budget process, system redesign, and performance management. This is a tall order, but John's updated book delivers the goods and comes at just the right time!" —Beverly Stein, president, Public Strategies Group; former chair, Multnomah County Board of Commissioners (Oregon)
"This volume provides a practical theory of how to accomplish the political work of leading organizations through strategic change. The theory is a comprehensive synthesis of research on strategic planning and management. There's no better single reference point for choosing an approach to strategic planning and carrying it through to a successful conclusion." —Michael Barzelay, professor of public management, London School of Economics and Political Science; coauthor, Preparing for the Future: Strategic Planning in the U.S. Air Force
See More
Figures and Exhibits.
Preface.
Acknowledgments for the Fourth Edition.
The Author.
Part One: Understanding the Dynamics of Strategic Planning.
1 Why Strategic Planning Is More Important Than Ever.
2 The Strategy Change Cycle: An Effective Strategic Planning Approach for Public and Nonprofit Organizations.
Part Two: Key Steps in Thinking and Acting Strategically.
3 Initiating and Agreeing on a Strategic Planning Process.
4 Clarifying Organizational Mandates and Mission.
5 Assessing the Environment to Identify Strengths and Weaknesses, Opportunities and Challenges.
6 Identifying Strategic Issues Facing the Organization.
7 Formulating and Adopting Strategies and Plans to Manage the Issues.
8 Establishing an Effective Organizational Vision for the Future.
9 Implementing Strategies and Plans Successfully.
10 Reassessing and Revising Strategies and Plans.
Part Three: Managing the Process and Getting Started with Strategic Planning.
11 Leadership Roles in Making Strategic Planning Work.
12 Getting Started with Strategic Planning.
Resources.
Resource A: A Guide to Stakeholder Identification and Analysis Techniques.
Resource B: Using the Web in the Strategic Planning Process.
Resource C: Developing a Livelihood Scheme that Links Aspirations, Distinctive Competencies, and Distinctive Assets.
Resource D: Using Action-Oriented Strategy Mapping to Identify Strategic Issues and Formulate Effective Strategies.
References.
Name Index.
Subject Index.
See More
John M. Bryson is the McKnight Presidential Professor of Planning and Public Affairs in the Hubert H. Humphrey School of Public Affairs at the University of Minnesota. He is a fellow of the National Academy of Public Administration and in 2011 received the Dwight Waldo Award from the American Society for Public Administration for "outstanding contributions to the professional literature of public administration over an extended scholarly career." He consults widely on strategic management with public, nonprofit, and business organizations in the United States and abroad.
See More
Learn more about