Reading Comprehension Boosters: 100 Lessons for Building Higher-Level Literacy, Grades 3-5
ISBN: 978-0-470-39992-7
480 pages
April 2010, Jossey-Bass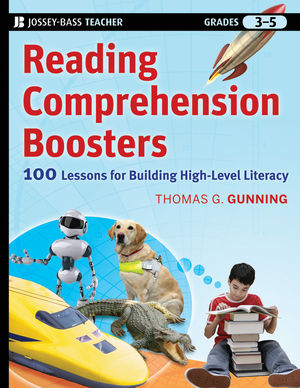 An effective resource for improving young students' comprehension skills
With 100 high-interest reading activities, this book is designed to help students gain fundamental comprehension skills so they can succeed in reading complex and varied types of texts. Each lesson includes a brief reading selection followed by questions, multiple-choice selections, and thinking and writing activities. The activities, all on reproducible worksheets, can be used to give individual students or groups extra practice, or as supplemental skill-building and test-prep activities for the full class.
Activities are grouped within seven units, each focusing on an important aspect of comprehension
Units increase in difficulty level so that students gain proficiency as they work through the material
High-interest themes include stories about robots, animal helpers, space, and famous people
Offers activities that build the advanced cognitive skills called for in the National Assessment of Education Progress (NAEP)
Each lesson includes a teacher section with guidance on how to introduce the activities to students and support them in their reading practices.
See More
About This Book.
About the Author.
Introduction.
Unit 1 Finding Main Ideas, Identifying Supporting Details, and Visualizing.
Theme A: The Wonderful World of Animals.
Theme B: Robots.
Unit 2 Summarizing.
Theme: Animal Helpers.
Unit 3 Inferring, Predicting, Concluding.
Theme: People Helping People.
Unit 4 Facts and Opinions.
Theme: Inventions.
Unit 5 Comparing and Contrasting.
Theme A: Confusing Animals.
Theme B: Famous People.
Theme C: Sleep.
Unit 6 Review and Application.
Theme A: Transportation.
Theme B: One-Room Schoolhouses.
Answer Key.
References.
See More
Thomas G. Gunning, a consultant and former public school teacher, is professor emeritus in the Department of Reading at Southern Connecticut State University and adjunct professor at Central Connecticut State University. He teaches a variety of courses on literacy, remedial reading, and reading diagnosis.
See More