Teaching at Its Best: A Research-Based Resource for College Instructors, 3rd Edition
ISBN: 978-0-470-40104-0
400 pages
May 2010, Jossey-Bass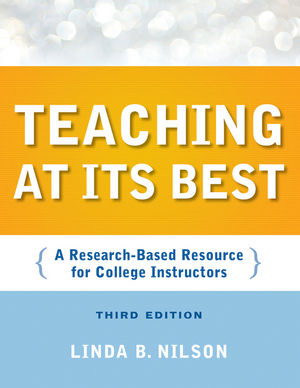 This expanded and updated edition of the best-selling handbook is an essential toolbox, full of hundreds of practical teaching techniques, classroom activities and exercises, for the new or experienced college instructor. This new edition includes updated information on the Millennial student, more research from cognitive psychology, a focus on outcomes maps, the latest legal options on copyright issues, and more. It will also include entirely new chapters on matching teaching methods with learning outcomes, inquiry-guide learning, and using visuals to teach, as well as section on the Socratic method, SCALE-UP classrooms, and more.
See More
The Author xv
Preface xvii
Part One LAYING THE GROUNDWORK FOR STUDENT LEARNING 1
1 Understanding Your Students and How They Learn 3
2 Outcomes-Centered Course Design 17
3 The Complete Syllabus 33
4 Your First Day of Class 43
5 Motivating Your Students 51
Part Two MANAGING YOUR COURSES 61
6 Copyright Guidelines for Instructors 63
7 Preventing and Responding to Classroom Incivility 71
8 Preserving Academic Integrity 83
9 Making the Most of Office Hours 89
10 Course Coordination Between Faculty and Teaching Assistants 95
Part Three CHOOSING AND USING THE RIGHT TOOLS FOR TEACHING AND LEARNING 101
11 Matching Teaching Methods with Learning Outcomes 103
12 Making the Lecture a Learning Experience 113
13 Leading Effective Discussions 127
14 Questioning Techniques for Discussion and Assessment 137
15 Experiential Learning Activities 145
16 Learning in Groups 155
17 Writing-to-Learn Activities and Assignments 167
Part Four MORE TOOLS: TEACHING REAL-WORLD PROBLEM SOLVING 173
18 Inquiry-Guided Learning 175
19 The Case Method 181
20 Problem-Based Learning 187
21 Quantitative Reasoning and Problem Solving 193
22 Problem Solving in the Sciences 199
Part Five MAKING LEARNING EASIER 209
23 Getting Students to Do the Readings 211
24 Teaching Your Students to Think and Write in Your Discipline 223
25 Accommodating Different Learning Styles 229
26 Using Visuals to Teach 239
27 Using Instructional Technology Wisely 253
Part Six ASSESSING LEARNING OUTCOMES 271
28 Assessing Student Learning in Progress 273
29 Constructing Summative Assessments 281
30 Preparing Students for Tests 295
31 Grading Summative Assessments 301
32 Evaluating and Documenting Teaching Effectiveness 315
Appendix: Instructional Support and Resources at Your Institution 329
References 335
Index 367
See More
The Author
Linda B. Nilson is the founding director of the Office of Teaching Effectiveness and Innovation at Clemson University. She is the author of The Graphic Syllabus and the Outcomes Map: Communicating Your Course from Jossey-Bass.
See More
Learn more about