Improving Leadership in Nonprofit Organizations
ISBN: 978-0-470-40179-8
320 pages
December 2003, Jossey-Bass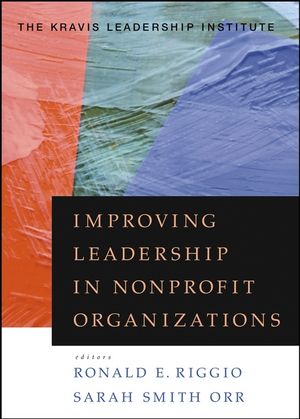 Well-grounded in theory, research, and practice,
Improving Leadership in Nonprofit Organizations
is a comprehensive resource that goes beyond traditional nonprofit management theory to offer the latest in cutting-edge thought on leadership for nonprofit organizations. The book offers a wealth of new directions and ideas for leadership and features chapters written by such well-known experts as Frances Hesselbein, Stephen Dobbs, Florence Green, and Jay Conger.
Improving Leadership in Nonprofit Organizations
discusses the most compelling leadership challenges and issues for nonprofit organizations and
Shows that transformational leaders of nonprofits lead more effective organizations
Includes a comparison of highly functioning for-profit boards with boards of nonprofit organizations
Provides an analysis of dysfunctional boards
Discusses for-profit "organizations of hope" that provide important leadership for social change and responsibility
Suggests strategies for managing and motivating a volunteer workforce
Presents a model for leading nonprofit projects
Offers a valuable model for program evaluation in nonprofit organizations
Considers the ongoing development of nonprofit leaders
Includes strategies to develop leadership capacity
See More
Tables, Figures, and Exhibits xi
Foreword xiii
Jack Shakely
Preface xvii
The Kravis Leadership Institute xxi
The Authors xxiii
PART ONE: CHALLENGES FOR NONPROFIT LEADERS 1
1 Future Challenges for Nonprofit Organizations 3
Frances Hesselbein
2 Some Thoughts About Nonprofit Leadership 10
Stephen Mark Dobbs
3 Ten Things Nonprofits Must Do in the Twenty-First Century 19
Florence L. Green
PART TWO: A FOCUS ON THE NONPROFIT LEADER 37
4 Missionary Leadership: Harnessing the Power of the Mission 39
K. M. Thiagarajan
5 Transformational Leadership in Nonprofit Organizations 49
Ronald E. Riggio, Bernard M. Bass, Sarah Smith Orr
6 The Ethical Challenges of Nonprofit Leaders 63
Joanne B. Ciulla
7 Managerial Pay in Nonprofit and For-Profit Corporations 76
Kevin F. Hallock
8 Succession and Its Discontents: The Perils and Promise of Change 102
Georgia Sorenson
PART THREE: BOARD LEADERSHIP 117
9 Transforming Nonprofit Boards: Lessons from the World of Corporate Governance 119
Jay A. Conger
10 Last Things First—Theories and Realities: A Perspective on Nonprofit Leadership 131
Susan M. Scribner
PART FOUR: A FOCUS ON THE NONPROFIT ORGANIZATION 149
11 Organizations of Hope: Leading the Way to Transformation, Social Action, and Profitability 151
Gill Robinson Hickman
12 Volunteers and Volunteer Organizations: Theoretical Perspectives and Practical Concerns 163
Mark Snyder, Allen M. Omoto
13 Leadership, Social Work, and Virtual Teams: The Relative Influence of Vertical Versus Shared Leadership in the Nonprofit Sector 180
Craig L. Pearce, Youngjin Yoo, Maryam Alavi
PART FIVE: NONPROFIT LEADERSHIP TOOLS AND TECHNIQUES 205
14 Leadership of the Nonprofit Strategy Development Process 207
Thomas J. Reynolds
15 A Leadership Model for Nonprofit Projects 219
Victor Sohmen
16 Using Professional Evaluation to Improve the Effectiveness of Nonprofit Organizations 234
Stewart I. Donaldson
17 Leadership Assessment and Development: Recommendations for a New Assessment Model 252
Paul M. Arsenault
Conclusion: Soul-Based Leadership: The Confluence of Ideals, Concepts, and Action 267
Sarah Smith Orr
Name Index 279
Subject Index 283
See More
Ronald E. Riggio
is the Henry R. Kravis Professor of Leadership and Organizational Psychology and director of the Kravis Leadership Institute at Claremont McKenna College. He is the author of numerous books on the topic of leadership.
Sarah Smith Orr is president of Smith Orr & Associates in Pasadena, California. She is a consultant and coach for executives and organizations with a specialty in nonprofit leadership and for men and women making a passage through a life transition.
See More