Textbook
Epidemiology Foundations: The Science of Public Health
ISBN: 978-0-470-40289-4
304 pages
December 2010, ©2011, Jossey-Bass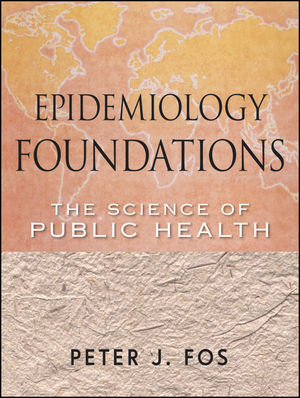 Written by Peter J. Fos—an expert in epidemiology with more than twenty years teaching experience—Epidemiology Foundations offers an ideal introduction to the theory and practice of public health epidemiology. This important text discusses both the historical perspective and future trends of epidemiology, reviews health and disease, and explains how they are measured. The book's overview of epidemiological studies shows how they are used in practice. Epidemiology Foundations takes a social and community perspective and includes information about global diseases and epidemics.
Emphasis on concepts such as population health, social determinants, and global health make this book especially interesting and accessible to those new to the subject. Each chapter is supplemented with problem-solving exercises and research assignments to aid readers in understanding its epidemiology principles. Reflecting and expanding on recommendations of the Association of American Colleges and Universities, Epidemiology Foundations is the ideal text for any course introducing epidemiology in public health.
See More
Figures ix
Tables xi
Preface xv
The Author xix
Chapter 1: Why Epidemiology? 1
Introduction 2
Public Health and Community Medicine 2
Defi nition of Epidemiology 3
Population Health 9
Population Trends 10
Health Costs 15
Global Health Threats 17
Summary 17
Chapter 2: History of Epidemiology 21
Historical Perspectives 22
Uses of Epidemiology 29
Examples of Cohort Studies 30
Summary 31
Chapter 3: Health and Disease 35
Defi nitions 36
Distinction Between Health and Disease 37
Disease Progression 39
Cause and Effect 43
Summary 49
Chapter 4: Describing Health and Disease 53
Descriptive Epidemiology 54
Hypotheses 55
Descriptive Variables 56
Examples of Use of Descriptive Information 75
Summary 76
Chapter 5: Measuring Health and Disease 79
Morbidity 80
Mortality 90
Other Measures 97
Graphing Health and Disease Measurements 102
Confounding 105
Summary 108
Chapter 6: Epidemiology Study Designs: Observational and Experimental Studies 113
Defi nition of Observational Studies 114
Framework and Types of Observational Studies 114
Descriptive Studies 115
Analytical Studies 119
Examples of Observational Studies 123
Definition of Experimental Studies 124
Framework and Types of Experimental Studies 125
Clinical Trials 126
Bias and Validity 131
Examples of Experimental Studies 132
Summary 133
Chapter 7: Uses of Epidemiological Studies 137
Introduction 137
Observational Studies 139
Experimental Studies 152
Summary 153
Chapter 8: Epidemics 159
Definition 160
Transmission 161
Response to Epidemics 165
Surveillance 170
Reportable Diseases 171
Examples 171
Summary 174
Chapter 9: Epidemiology and Society 179
Introduction 180
Social Determinants 181
Socioeconomic Factors and Health 183
The Built Environment 185
Summary 188
Chapter 10: Screening for Disease 193
Prevention and Epidemiology 194
Screening 195
Accuracy of Screening Tests 196
Summary 207
Chapter 11: Community Public Health 211
Introduction 212
Community Health Workers 213
Community Level Planning and Evaluation 214
Examples 218
Public Health Programs 219
Public Health Agencies 224
Summary 225
Chapter 12: Epidemiology Today 229
Emergency Preparedness 230
Global Health 232
Emerging Diseases 236
Chronic Diseases 247
Summary 256
Notes 259
Index 275
See More
Peter J. Fos is provost and professor of health sciences at the University of Texas at Tyler. He is an internationally known decision scientist and epidemiologist. He maintains adjunct faculty positions at the University of Southern Mississippi College of Health and at the University of Alabama in Birmingham, School of Health-Related Professions, and is a visiting scholar at the Medical University of South Carolina, College of Health Professions.
See More
Instructors Resources
Digital evaluation copy available for this title
Request Copy

Contact your Wiley Representative
Find Your Rep

See More
See Less
Learn more about