The Trainer's Handbook, Updated Edition
ISBN: 978-0-470-40304-4
360 pages
September 2015, Pfeiffer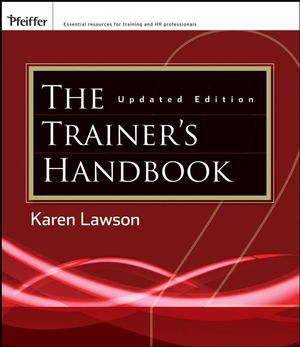 The Trainer's Handbook walks readers step-by-step through the training process and contains tips on assessing the needs of participants, keeping training learner-centered, incorporating activities into training, selecting audiovisual aids, and closing sessions creatively. As practical as it is instructive, the guide is filled with worksheets, checklists, and assessments--reproducible on the accompanying CD-ROM--that are designed to be flexible so trainers can plan their own paths to success. New content shows trainers how to train successfully in a down economy, as well a new Instructor's Guide.
See More
List of Tables, Exhibits, and Figures.
Contents of theWebsite.
Acknowledgments.
Introduction.
1. Assessing Needs.
Learning Outcomes.
Understanding the Needs Assessment Process.
Needs-Assessment Process.
How to Conduct a Needs Assessment.
Developing an Action Plan.
Assessing Participants' Knowledge, Attitudes, Skills.
Key Points.
2. UnderstandingAdult Learners.
Learning Outcomes.
AndragogicalVersus Pedagogical Model.
Understanding How andWhy People Learn.
Learning Styles.
Application of Learning Principles.
Key Points.
3. Training Styles.
Learning Outcomes.
Trainer Characteristics and Competencies.
Training Style.
Increasing Effectiveness.
Learner-CenteredVersus Information-Centered.
Key Elements of a Trainer's Style.
Key Points.
4. UnderstandingToday's Learner.
Learning Outcomes.
The Changing Training Environment.
Self-Awareness.
Diversity Issues.
Key Points.
5. Writing Instructional Objectives.
Learning Outcomes.
What Are Learning Objectives?
Writing Learning Objectives.
Key Points.
6.Writing an Instructional Plan.
Learning Outcomes.
Design Philosophy.
Time Needed to Develop a Training Program.
Cost Considerations.
Major Components of Design.
Creating a Design Matrix.
Purpose of an Instructional Plan.
Components of an Instructional Plan.
Instructional Methods.
Developing Materials.
Key Points.
7. Selecting,Designing, and DevelopingActive-Training Methods.
Learning Outcomes.
The Case for Active Training.
Cooperative Learning.
Creating an Active-Learning Environment.
Designing Active-Training Activities.
Common Methods and Materials.
Experiential Learning Activities.
Action Learning.
Key Points.
8. DeliveringTraining.
Learning Outcomes.
Creating a Positive Learning Environment.
Experiential and Active-Training Techniques.
Tips for Using Specific Methods.
Improving Platform Presence.
Key Points.
9. UsingVisualAids.
Learning Outcomes.
Retention Rate inVisual Learning.
Why UseVisual Aids?
Guidelines for UsingVisual Aids.
Other Commonly UsedVisual Aids.
Key Points.
10. Distance Learning.
Learning Outcomes.
Workplace Trends.
Advantages/Benefits of Distance Learning.
Disadvantages/Drawbacks to Distance Learning.
Types of Distance Learning.
Guidelines for Designing Distance Learning.
Designing and Developing Activities.
Delivering Content and Activities.
Blended Learning.
Key Points.
11.Working with Groups.
Learning Outcomes.
The Trainer as Facilitator.
Ways to Encourage Participation.
The Art of Questioning.
Responding to Questions.
Scaling theWall of Resistance.
Problem Situations.
Key Points.
12. Using Creativity.

Learning Outcomes.
Creativity with Small Groups.
Props and Other Theatrical Techniques.
Games.
Creative Closings.
Key Points.
13. EvaluatingTraining.
Learning Outcomes.
Why Evaluate?
When to Evaluate.
Whom to Involve.
How to Evaluate.
What to Evaluate.
Four-Level Model for Evaluation.
Participant Evaluation and Accountability for e-Learning.
Accountability for Training.
Significance of the Evaluation Process.
Key Points.
14. The Business of Consulting: Internal and External.
Learning Outcomes.
The Changing Role of the Trainer.
Understanding the Client-Consultant Relationship.
Selecting an External Consultant.
Follow-Up Reports.
Key Points.
15. Training DuringToughTimes.
Prove theValue of Training.
Peer Teaching.
Leaders as Teachers.
Negotiate with External Consultants and Service Providers.
Supplier/Vendor-Sponsored Training.
Modified Modules.
Lunch and Learn.
Podcasting.

Teleconferences,Teleseminars, andWeb-Casts.
Just-in-Time Materials.
Key Points.
AppendixA: Answers to Exercises.
Appendix B: Recommended Resources.
Appendix C:Criteria for Selecting Packaged Programs.
References.
Index.
About theAuthor.
See More
Karen Lawson, Ph.D., is an international consultant, speaker, and author. As founder and president of Lawson Consulting Group, Inc., she is the author of Leadership Development Basics, The Art of Influencing, Improving Workplace Performance Through Coaching, Improving On-the-Job Training and Coaching, SkillBuilders: 50 Communication Skills Activities, New Employee Orientation Training, and Involving Your Audience—Make It Active. She is coauthor of 101 Ways to Make Training Active (first edition) and has published dozens of articles in professional journals.
See More
Learn more about