Internet Simplified
ISBN: 978-0-470-40446-1
Paperback
272 pages
February 2009
US $24.99

Add to Cart
This price is valid for United States. Change location to view local pricing and availability.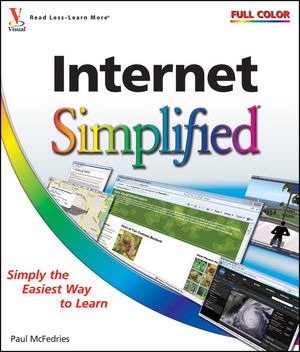 Other Available Formats:
E-book
1 Learning Internet Basics.
Introducing the Internet.
Understanding Internet Services.
Learn How the Internet Works.
Discover What You Can Do on the Internet.
2  Getting on the Internet.
Choose an Internet Service Provider.
Explore Internet Connections.
Configure Your Router to Connect to the Internet.
Start the Connect to the Internet Wizard.
Set Up a Dialup Internet Connection.
Set Up a Broadband Internet Connection.
Set Up a Wireless Internet Connection.
Connect to the Internet.
Disconnect from the Internet.
Make Your Internet Connection More Secure.
3 Browsing the World Wide Web.
Introducing the World Wide Web.
Understanding Web Browsing Basics.
Learn About Internet Explorer.
Discover Firefox.
Browse with Safari.
Browse Multiple Web Sites Using Tabs.
Fill In a Web Form.
Save Your Favorite Sites.
Download Files to Your Computer.
Save Web Data to Your Computer.
Understanding Web Error Messages.
4 Surfing the Web Safely and Securely.
Protect Yourself on the Web.
Protect Your Children on the Web.
Set the Web Security Level.
Protect Yourself from Identity Theft.
Guard Against Spyware.
Guard Against Viruses.
Delete Your Browsing History.
Allow Some Web Site Pop-up Windows to Appear.
Create a Strong Password.
5 Searching for Information on the Web.
Understanding Search Engines.
Search from the Web Browser.
Search Using Google.
Refine Your Google Searches.
Get More Out of Google Searching.
Search for Information Using Wikipedia.
Discover Other Search Engines.
Search a Web Page.
6 Getting Things Done on the Web.
Read News on the Web.
Research Using the Web.
Socialize on the Web.
Play Games Online.
Bank and Invest on the Web.
Book a Trip Using the Web.
Find a Job on the Web.
Explore Sites for Kids.
Create Your Own Web Site.
7 Working with Internet Media.
Get Music over the Internet.
Subscribe to a Podcast.
Listen to Internet Radio.
Share Photos on the Web.
Access Streaming Media.
Watch and Upload YouTube Videos.
Get Directions with Google Maps.
8 Social Networking.
Understanding Social Networking.
Discover Facebook.
Take a Tour of MySpace.
Enhance Business Contacts with LinkedIn.
Explore Bebo.
Discover Other Social Networking Sites.
Learn About Social Networking Etiquette.
9 Buying and Selling Online.
Understanding Online Commerce.
Using the Web for Comparison Shopping.
Research Your Purchase Online.
Make an Online Purchase.
Shop Online Securely.
Sell Your Goods and Services Online.
10 Communicating via E-mail.
Introducing E-mail.
Discover E-mail Addresses.
Compose and Send an E-mail Message.
Attach a File to a Message.
Receive E-mail Messages.
Handle Message Attachments.
Reply to a Message.
Forward a Message to Another Person.
Learn About E-mail Etiquette.
Subscribe to a Mailing List.
Learn About Mailing List Etiquette.
11 Enhancing E-mail Security and Privacy.
Understanding Junk E-mail Messages.
Reduce Junk E-mail.
Guard Against E-mail Viruses.
Guard Against Phishing Attempts.
Enhance E-mail Privacy.
12 Communicating via Instant Messaging and Chat.
Introducing Instant Messaging.
Discover Instant Messaging Systems.
Instant Messaging with Windows.
Instant Messaging with the Mac.
Add a Buddy.
Carry On a Text Chat.
Perform an Audio Chat.
Communicate with a Video Chat.
Converse in an Internet Chat Room.
13 Creating and Reading Blogs.
Understanding Blogs.
Blog with Blogger.
Set Up a TypePad Blog.
Create a WordPress Blog.
Microblog with Twitter.
Discover Other Blog Hosts.
Get the Most Out of Your Blog.
Comment on a Blog Post.
Subscribe to a Blog Feed.