Textbook
Environmental Health: From Global to Local, 2nd Edition
ISBN: 978-0-470-40487-4
1280 pages
February 2010, ©2010, Jossey-Bass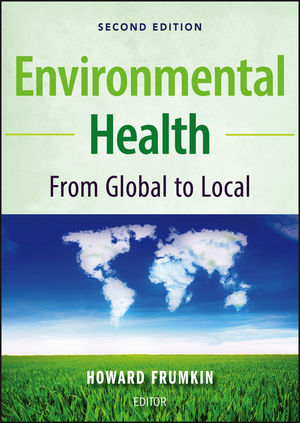 ENVIRONMENTAL HEALTH
The second edition of Environmental Health: From Global to Local, a comprehensive introductory text, offers an overview of the methodology and paradigms of this burgeoning field, ranging from ecology to epidemiology, from toxicology to environmental psychology, and from genetics to ethics. Expert contributors discuss the major issues in contemporary environmental health: air, water, food safety, occupational health, radiation, chemical and physical hazards, vector control, and injuries. Also emphasizing a wide variety of issues of global interest, the thoroughly revised second edition contains updated information on such timely topics as toxicology, exposure assessment, climate change, population pressure, developing nations and urbanization, energy production, building and community design, solid and hazardous waste, and disaster preparedness. In addition, each chapter of Environmental Health includes learning objectives, key points, and discussion questions.
Praise for the first edition of Environmental Health
"A classic textbook for the dynamic, evolving field of environmental health, thoughtful, well written, well balanced and referenced. An excellent overview of a multifaceted approach to environmental health."
—AOEC Newsletter (Association of Occupational and Environmental Clinics)
"With its many examples, clear explanations, and emphasis on big picture themes and relevance, it is an astonishingly interesting read."
—Global Public Health
"The book's chapters contain highly pertinent insights and information on environmental issues that go beyond the usual boundaries of classic environmental health."
—Environmental Health Perspectives
Winner, AAP Award for Excellence in Professional and Scholarly Publishing
See More
Tables, Figures, and Exhibits vii
The Editor xxi
The Contributors xxii
Acknowledgments xxvii
Introduction xxix
Howard Frumkin
PART ONE: METHODS AND PARADIGMS
1. Ecology and Environmental Health 3
Bruce Wilcox and Holly Jessop
2. Toxicology 49
Jason R. Richardson and Gary W. Miller
3. Environmental and Occupational Epidemiology 79
Kyle Steenland and Christine Moe
4. Exposure Assessment, Industrial Hygiene, and Environmental Management 109
P. Barry Ryan
5. Environmental Psychology 137
Daniel Stokols and Chip Clitheroe
6. Genetics and Environmental Health 173
Samuel H. Wilson and William A.Suk
7. Environmental Health Ethics 195
Andrew Jameton
8. Environmental Justice 227
Charles Lee
PART TWO: ENVIRONMENTAL HEALTH ON THE GLOBAL SCALE
9. Population Pressure 259
Don Hinrichsen
10. Climate Change 279
Jonathan A. Patz
11. Developing Nations 329
Jerome Nriagu, Jaymie Meliker, and Markey Johnson
PART THREE: ENVIRONMENTAL HEALTH ON THE REGIONAL SCALE
12. Air Pollution 387
Michelle L. Bell and Jonathan M. Samet
13. Energy Production 417
Jeremy J. Hess
14. Healthy Communities 451
Sarah K. Heaton, John M. Balbus, James W. Keck, and Andrew L. Dannenberg
15. Water and Health 487
Tim Ford
PART FOUR: ENVIRONMENTAL HEALTH ON THE LOCAL SCALE
16. Solid and Hazardous Waste 559
Sven Rodenbeck, Kenneth Orloff, and Henry Falk
17. Pest Control and Pesticides 591
Mark G. Robson, George C. Hamilton, and Wattasit Siriwong
18. Food Safety 635
David McSwane
19. Healthy Buildings 689
Howard Frumkin
20. Workplace Health and Safety 729
Melissa Perry and Howard Hu
21. Radiation 769
Arthur C. Upton
22. Injuries 805
Jeremy J. Hess and Junaid A. Razzak
23. Environmental Disasters 843
Mark E. Keim
24. Nature Contact 877
Howard Frumkin
25. Children 915
Maida P. Galvez, Joel Forman, and Philip J. Landrigan
PART FIVE: THE PRACTICE OF ENVIRONMENTAL HEALTH
26. Prevention in Environmental Health 963
Lynn R. Goldman
27. Environmental Health Practice 983
Sarah Kotchian and Robert J. Laumbach
28. Geographic Information Systems 1021
Lance A. Waller
29. Risk Assessment 1037
Scott Bartell
30. Environmental Health Policy 1063
A. Stanley Meiburg
31. Risk Communication 1099
Vincent T. Covello
32. Legal Remedies 1141
Douglas A. Henderson
INDEX 1181
See More
The Editor
Howard Frumkin, MD, DrPH, is director of the National Center for Environmental Health and the Agency for Toxic Substances and Disease Registry at the U.S. Centers for Disease Control and Prevention. Formerly he was professor and chair of the Department of Environmental and Occupational Health at the Rollins School of Public Health of Emory University and professor of medicine at Emory Medical School in Atlanta.
See More
Buy Both and Save 25%!
Environmental Health: From Global to Local, 2nd Edition (US $110.00)
-and- The Built Environment and Public Health (US $78.00)
Total List Price: US $188.00
Discounted Price: US $141.00 (Save: US $47.00)
Cannot be combined with any other offers. Learn more.
Learn more about