Architecting Resilient Systems: Accident Avoidance and Survival and Recovery from Disruptions
ISBN: 978-0-470-40503-1
320 pages
November 2009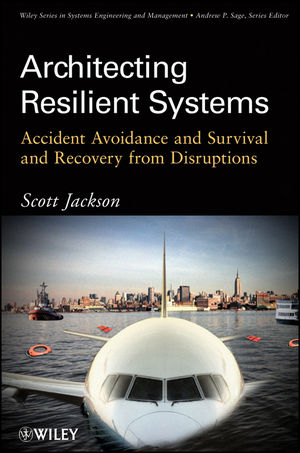 A complete framework for any organization on achieving resilience in the event of terrorist attacks, natural disasters, or internal failures
The study of resilience encompasses the processes, disciplines, and infrastructure that need to be in place to anticipate and prevent major accidents, survive unprecedented disruptions, and maintain systems operation. Architecting Resilient Systems presents a framework for implementation that both public and private organizations can use as a guide to establishing procedures for anticipating, surviving, and recovering from disruptions. Relying on an uncommon level of familiarity with current research and standard ways programs are run in industry, this resource presents principles that may be applied to an extensive number of system types and environments. Coverage includes:
A systems approach to treating resilience—including both holistic and analytical methods in which systems architecting plays a major role
The management and technical processes necessary to grasp system resilience, and the interaction between them
Approaches that depart from accepted practices in industry and government
Illuminating case histories—from chemical to civil infrastructure to aircraft—along with comparisons that identify similarities
A discussion of and suggested approaches to dealing with cultural mindsets that can be detrimental to system resilience
End-of-chapter problems
Meeting the worldwide demand for an implementation approach to systems resilience, this timely guide can be used as a textbook in university courses or as a reference for practicing engineers, systems architects, technology managers, government agencies, and any business professional whose role is to plan for natural and human-made disruptions.
See More
Preface ix
Acknowledgments xiii
Notes on Terminology xv
Chapter 1 On Resilience 1
Chapter 2 System Resilience and Related Concepts 11
Chapter 3 Disruptions 39
Chapter 4 Case Histories 55
Chapter 5 Culture 91
Chapter 6 Capabilities 121
Chapter 7 Infrastructure 151
Chapter 8 Resilience Architecting 159
Chapter 9 Governance 187
Chapter 10 Measuring Resilience 197
Chapter 11 Cost 211
Chapter 12 Implementation 225
Chapter 13 A Summary of Themes 239
Chapter 14 A Final Word 245
Appendix A Domain-Specific Example for Architecting a Fire-Protection Infrastructure System 249
Appendix B A Resilience Analysis of Metrolink 111 259
References 273
Index 285
See More
Scott Jackson, MA, MS, is an Adjunct Associate Professor in the University of Southern California (USC) graduate program in Systems Architecting and Engineering, where he teaches resilience architecting. Scott is a Fellow of the International Council on Systems Engineering (INCOSE).
See More
More in this series