After the Fall: Opportunities and Strategies for Real Estate Investing in the Coming Decade
ISBN: 978-0-470-40527-7
201 pages
March 2009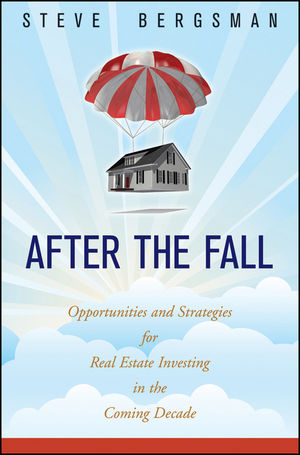 Praise for After The Fall
"Steve Bergsman provides his readers with one of the most comprehensive, yet concise overviews of real estate and all its property types."—Christopher Macke, Vice President, GE Real Estate
"This is an extraordinary work of detailed research and compelling writing. I've never seen the subject presented in such a cogent and skillful manner."—Phil Hall, editor, Secondary Marketing Executive
"The way out of the financial crash of 2007/2008 will come through skilled operations, astute investing, and the ability of real estate practitioners to give up their mental memory of the future! The heated success of ten-year, unprecedented growth in the real estate industry has somehow atrophied the industry's application of knowledge. What we need is a fresh look at opportunities and strategies for real estate investing. We are lucky that Bergsman's book has fit the bill—just in time."—Jack M. Cohen, CEO, Cohen Financial
"Insightful and informative; connects all the dots, providing the basis and foundation for making strategic decisions about real estate."—Stephen Blank, Senior Fellow, Finance, The Urban Land Institute
See More
Acknowledgments.
Introduction.
PART I: COMMERCIAL REAL ESTATE.
Chapter One: The Office Market.
Chapter Two: The Industrial Market.
Chapter Three: The Retail Real Estate.
Chapter Four: The Multifamily Market.
PART II: OTHER ISSUES IN COMMERCIAL REAL ESTATE.
Chapter Five: Sustainability.
Chapter Six: Market for Distressed Real Estate & Loans.
PART III: RESIDENTIAL REAL ESTATE.
Chapter Seven: The Single-Family Housing Market.
Chapter Eight: The Condominium Market.
PART IV: OTHER ISSUES IN RESIDENTIAL REAL ESTATE.
Chapter Nine: Homeowner Insurance and Property Taxes.
Chapter Ten: Urban and Suburban Infill.
PART V: LEISURE REAL ESTATE.
Chapter Eleven: The Market for Second Homes.
Chapter Twelve: The Market for Vacation Properties.
Afterword.
Notes.
About the Author.
See More
Steve Bergsman is a real estate, financial, and travel writer with more than twenty years' experience and visitations to 120 countries. His news stories and travel articles have been published in more than 100 publications around the world, and he has appeared on local and national radio and television. Bergsman is also the author of three previous real estate books, Maverick Real Estate Financing, Maverick Real Estate Investing, and Passport to Exotic Real Estate, all published by Wiley.
See More