E-book
MacBook Portable Genius
ISBN: 978-0-470-40630-4
368 pages
November 2008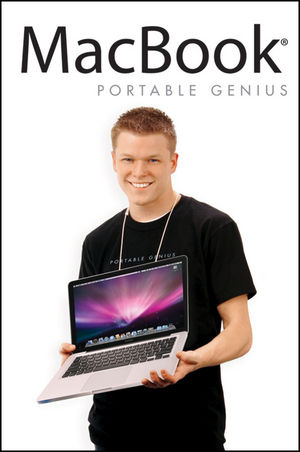 The Genius is in.
You don't have to be a genius to use a MacBook. But if you want to get the very most out of yours, put this savvy Portable Genius guide to work. Want to connect your MacBook to other Macs? Use Expose to its fullest potential? Troubleshoot? You'll find cool and useful Genius tips, insider secrets, full-color screenshots, and pages of easy-to-access shortcuts and tools that will save you loads of time and make your MacBook IQ soar.
Portable GENIUS
Fun, hip, and straightforward, the new Portable Genius series gives forward-thinking Apple users useful information in handy, compact books that are easy to navigate and don't skimp on the essentials. Collect the whole series and make the most of your Apple digital lifestyle.
See More
How Can I Use My Desktop Space Efficiently?
How Do I Manage User Accounts?
How Can I Connect a MacBook to the Internet?
What Can I Do on a Local Network?
How Do I Take Advantage of MobileMe?
How Can I Manage Contact Information?
How Can I Go Beyond E-mail Basics with Mail?
How Can I Communicate with iChat?
How Can I Get the Most from the Web?

How Can I Manage My Time Effectively with iCal?
How Can I Make Sure I Don't Run Out of Battery Power?
How Can I Control MacBook More Effectively?
How Do I Make Better Use of MacBook Audio?
How Do I Print with MacBook?
How Do I Add More Data Storage?
How Can I Protect MacBook?
How Do I Solve MacBook Problems?
Index
See More
Brad Miser has written more than 25 books about computers and related technology, including Teach Yourself VISUALLY MacBook. He has also written numerous articles in MacAddict magazine and has been a featured speaker on various topics at MacWorld Expo, at user group meetings, and in other venues.
See More