The CRB Commodity Yearbook 2009
ISBN: 978-0-470-40672-4
384 pages
May 2009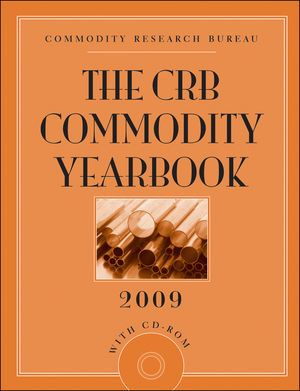 The Single Most Comprehensive Source of Commodity and Futures Market Information Available
Since 1939, professional traders, commercial hedgers, portfolio managers, and speculators have come to regard The CRB Commodity Yearbook as the "bible" of the industry. Here is a wealth of authoritative data, gathered from government reports, private industry, and trade and industry associations, all compiled by the Commodity Research Bureau, the organization of record for the entire commodity industry.
The Yearbook is absolutely essential for identifying changing trends in supply and demand and for projecting important price movements. It gives investors:
Worldwide supply/demand and production/consumption data for all the basic commodities and futures markets-from A(luminum) to Z(inc), including all the major markets in interest rates, currencies, energy, and stock index futures

Over 900 tables, graphs, and price charts of historical data, many of which show price history dating back to 1900

Fact-filled CD-ROM provides readers with valuable commodity information in an easy-to-use electronic format

Concise introductory articles describe the salient features of each commodity and help put the quantitative information in perspective

Articles on key markets and important issues concerning the commodity industry
The 2009 Yearbook features articles by CRB Chief Economist, Richard W. Asplund, including:
2001-08 Commodity Bull Market Comes to an Abrupt End

U.S. Could See Worst Post-War Recession

World Recession Emerges as Exports and Confidence Plunge

Crude Oil Prices Fall Back to Earth from Record High of $147

U.S. Dollar Recovers from Record Low on Global Crisis

U.S. Housing Problems Mushroom into Global Crisis
For anyone dealing in commodities, The CRB Commodity Yearbook 2009 offers an abundance of valuable information and indispensable guidance for decision making.
See More
Commodity Research Bureau, a Barchart Company, is the country's largest resource for commodity and financial statistics, historical data, and charting services. Barchart provides stock and commodity traders with accurate and dependable online financial quotes, charts, and technical analysis tools.
See More
Learn more about