The Couples Psychotherapy Treatment Planner, 2nd Edition
ISBN: 978-0-470-40695-3
352 pages
January 2011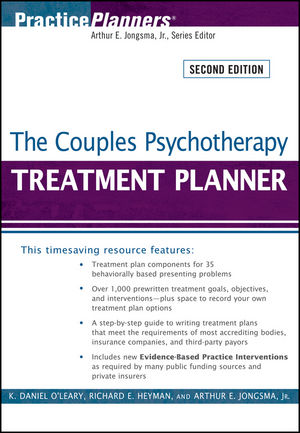 THE BESTSELLING TREATMENT PLANNING SYSTEM FOR MENTAL HEALTH PROFESSIONALS
The Couples Psychotherapy Treatment Planner, Second Edition provides all the elements necessary to quickly and easily develop formal treatment plans that satisfy the demands of HMOs, managed care companies, third-party payors, and state and federal agencies.
New edition features empirically supported, evidence-based treatment interventions

New chapters on Internet sexual use, retirement, and parenthood strain

Organized around 35 behaviorally based presenting problems including jealousy, midlife crisis, parenting conflicts, and sexual dysfunction

Over 1,000 prewritten treatment goals, objectives, and interventions—plus space to record your own treatment plan options

Easy-to-use reference format helps locate treatment plan components by behavioral problem

Designed to correspond with The Couples Psychotherapy Progress Notes Planner, Second Edition and Couples Therapy Homework Planner, Second Edition

Includes a sample treatment plan that conforms to the requirements of most third-party payors and accrediting agencies including CARF, The Joint Commission (TJC), COA, and the NCQA
Additional resources in the PracticePlanners series:

For more information on our PracticePlanners® products, including our full line of Treatment Planners, visit us on the Web at:
www.wiley.com/practiceplanners
See More
PracticePlanners Series Preface xiii
Acknowledgments xvii
Introduction 1
Sample Treatment Plan 10
Alcohol Abuse 14
Anger 23
Anxiety 33
Blame 43
Blended Family Problems 49
Communication 56
Dependency 65
Depression Due to Relationship Problems 72
Depression Independent of Relationship Problems 79
Disillusionment with Relationship 86
Eating Disorders 93
Financial Conflict 99
Infidelity 105
Internet Sexual Use 115
Intimate Partner Violence (IPV)—Intimate Terrorism 123
Intimate Partner Violence—Situational (Bi-Directional) Couple Violence 133
Intolerance 141
Jealousy 151
Job Stress 161
Life-Changing Events 167
Loss of Love/Affection 173
Midlife Transition Problems 180
Only One Partner Willing to Attend Therapy 188
Parenting Conflicts—Adolescents 197
Parenting Conflicts—Children 207
Personality Differences 216
Psychological Abuse 220
Recreational Activities Dispute 227
Religious/Spirituality Differences 233
Retirement 241
Separation and Divorce 250
Sexual Abuse 260
Sexual Dysfunction 267
Transition to Parenthood Strains 274
Work/Home Role Strain 283
Appendix A: Bibliotherapy Suggestions 293
Appendix B: Professional References for Evidence-Based Chapters 303
Appendix C: Index of DSM-IV-TR™ Codes Associated with Presenting Problems 325
Appendix D: Situational Analysis Form 331
See More
ARTHUR E. JONGSMA, Jr., PhD,
is the Series Editor for the bestselling Practice
Planners
®
. Since 1971, he has provided professional mental health services to both inpatient and outpatient clients. He was the founder and director of Psychological Consultants, a group private practice in Grand Rapids, Michigan, for twenty-five years. He is the author or coauthor of over forty books and conducts training workshops for mental health professionals around the world.
K. DANIEL O'LEARY, PhD, is a Distinguished Professor of Clinical Psychology in the Department of Psychology at Stony Brook University, State University of New York. His current research focuses on physical and psychological aggression in intimate relations and factors in marriage that lead to clinical depression.
RICHARD E. HEYMAN, PhD, is a Research Professor of Clinical Psychology in the Department of Psychology at Stony Brook University, State University of New York. Dr. Heyman's research program focuses on the development and maintenance of family problems.
See More