Helping College Students Find Purpose: The Campus Guide to Meaning-Making
ISBN: 978-0-470-40814-8
352 pages
February 2010, Jossey-Bass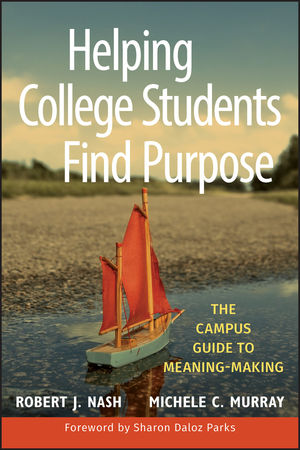 More students are demanding that their college experiences address the core questions of meaning and purpose. Helping College Students Find Purpose provides a theory-to-practice model of meaning-making. Through a how-to approach, this resource presents a series of concrete steps for applying the theory and practice of meaning-making to teaching, leading, administering, and advising. This guidebook provides the background knowledge and tools necessary to create a meaningful community by encouraging faculty and administrators to act as mentors to students.
See More
Foreword.
Preface.
About the Authors.
Part I: Making Meaning in the Quarterlife.
1. Is the Quarterlife Generation Ready for Meaning-Making?
2. Exploring the Meaning of Meaning: Existentialism and Postmodernism.
3. Finding Meaning in Religion and Spirituality: Why Can't My Faith Be Cool?
Part II: Putting Meaning-Making to Work: Tools of the Trade.
4. A Pedagogy of Constructivism: Deep-Meaning Learning.
5. Make Room for Meaning: Practical Advice.
6. The Ethics of Meaning-Making.
7. Meaning Maxims for Both Inside and Outside the Classroom.
Part III: Our Own Attempts to Make Meaning.
8. Two Personal Reflections for Our Readers.
Resources for Meaning-Making Educators.
Resource A: Four Therapeutic Approaches to Meaning-Making.
Resource B: Crossover Pedagogy.
References.
Index.
See More
Robert J. Nash
is an Official University Scholar in the Social Sciences and Humanities at the University of Vermont, Burlington, and has been a professor in the College of Education and Social Services there for forty years. He is the 2009 recipient of the Joseph A. Abruscato Award for Excellence in Research and Scholarship there. A prolific writer, he has published ten books, including
How To Talk About Hot Topics on Campus
from Jossey-Bass, as well as more than one hundred articles, book chapters, monographs, and book reviews in many of the leading journals in education at all levels.
Michele C. Murray is the associate vice president for student development at Seattle University. She provides leadership for engaging students in cocurricular activities that enhance their intellectual, spiritual, and emotional development. In addition, she supervises departments that facilitate student involvement, including New Student and Parent Programs, Leadership Development, Commuter and Transfer Student Services, Office of Multicultural Affairs, and Student Activities.
See More
Learn more about