Canon EOS Rebel XS/1000D Digital Field Guide
ISBN: 978-0-470-40950-3
272 pages
December 2008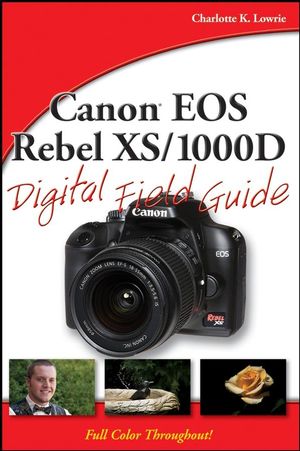 Your Canon EOS Rebel XS/1000D is small, lightweight, and packed with power and versatility. This handy, portable guide helps you take full advantage of Live View shooting, in-camera Canon EX SpeedLite control, intuitive, large-text menus, and all the controls. It offers innovative ideas and fresh thoughts to help you capture images that reflect your personal creative vision, plus advice on setting up your camera for your shooting style; using Canon's Picture Styles to manage color, contrast, and sharpness; and capturing outstanding action, wildlife, portrait, travel, nighttime, and macro shots.
See More
Acknowledgments.
Introduction.
Getting the Most from This Book.
Part I: Using the EOS Rebel XS/1000D.
Chapter 1: Exploring and Setting Up the EOS Rebel XS/1000D.
Chapter 2: Using the EOS Rebel XS/1000D.
Part II: Creating Great Photographs with the EOS Rebel XS/1000D.
Chapter 3: Using White Balance and Picture Styles.
Chapter 4: Using Live View.
Chapter 5: Customizing the EOS Rebel XS/1000D.
Chapter 6: The Fundamentals of Exposure and Light.
Chapter 7: Using Flash.
Part III: Creative Accessories and More.
Chapter 8: Exploring Canon Lenses.
Chapter 9: In the Field with the EOS Rebel XS/1000D.
Appendix A: Downloading Images and Updating Firmware.
Appendix B: Exploring RAW Capture.
Glossary.
Index.
See More
Charlotte K. Lowrie is an editorial, portrait, and stock photographer and award-winning writer. Her work has appeared in numerous magazines and on the Canon Digital Learning Center. Along with the bestselling Canon EOS Digital Rebel XSi Digital Field Guide and other Canon Digital Field Guides, she cowrote Exposure and Lighting For Digital Photographers Only. Charlotte teaches photography at BetterPhoto.com and is featured on www.takegreatpictures.com. View her work at wordsandphotos.org.
See More