Shaking the Globe: Courageous Decision-Making in a Changing World
ISBN: 978-0-470-41157-5
256 pages
January 2009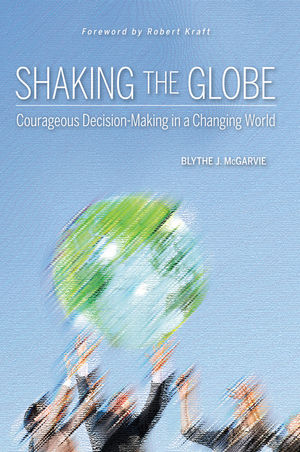 We live in a highly interdependent world where 95 percent of the world's consumers live outside the U.S. Two-thirds of the world's purchasing power is also outside the U.S. Shaking the Globe guides everyone on how to absorb the world's diversity and to build upon his or her global citizenship by using the FISO Factor? skills to transform themselves from a conventional leader into a courageous one.The new dynamics of global leadership--developing different competencies, curiosity and caring--must be learned.
Shaking the Globe
introduces the newly developed FISO Factor? Assessment Tool that can be used to evaluate a leader's ability to both Fit In and Stand Out - the ingredients necessary for leaders to make differences in their lives. Globalization is happening with or without you. To be a leader, you must learn how to take advantage of this opportunity. In this book, you will learn:
How to transcend any existing biases and prepare for the new world in order to keep your business growing;
Strategies to develop transformational global leadership skills in order to establish beachheads for future growth opportunities; and
How to stimulate coordination and cooperation across national borders in order to create a lasting and rewarding relationship with people with whom you will be connected.
See More
List of Figures.
List of Tables.
Foreword by Robert Kraft.
Prologue The Globe is Shaking.
Why Go Global Now?
The Journey Ahead.
Part I Preparing for an Adventure.
Chapter 1 Today's Interconnected Globe.
Back to the Future.
Bringing Down theWalls.
Five Factors That Shake the Multi-Polar World.
Key Points to Consider.
Chapter 2 Financial Realities.
Realities of Supply and Demand.
Realities of Increased Volatility and Inflation.
New Realities of Financial Reporting.
New Realities of the Global Enterprise.
Key Points to Consider.
Chapter 3 Four Types of Leaders.
Courageous Leadership in Action.
Courage Quotient.
Building Blocks of Courage.
Key Points to Consider.
Part II Connecting the World in Six Stops.
Chapter 4 Cultural Norms.
My Awakening.
Opportunity Is Now.
New Sources of Opportunity.
New Sources of Capital.
New Sources of Talent.
Guides to the Multi-Polar World.
Snapshot of the Future.
Key Points to Consider.
Chapter 5 Winning the Battle for Talent.
Today'sWorkforce.
The Global Generation.
Connecting and Engaging.
Intimate, Yet Isolated.
Inspiring a Cause.
Key Points to Consider.
Chapter 6 Women Working.
Untapped Resources.
EducatingWomen to Fuel Economic Growth.
Choices for Women Around theWorld.
Open the Doors to Opportunity.
Building Global Capabilities.
What Is Measured Happens.
Impact of Women Board Members and Executives.
Nurturing Future Global Leaders.
Key Points to Consider.
Chapter 7 Shareholder Interests.
What's the Fuss about Globalization?
Overcoming New Tensions.
Role of State Capitalism.
Emerging Market Multinationals Go Global.
Institutional Funds.
Venturing Ahead.
Key Points to Consider.
Chapter 8 Entrepreneurs from A to Z.
Disaggregation Leads to Innovation.
Identifying New Opportunities.
Accessing Human Capital.
Breeding Entrepreneurs.
Bulldozing Barriers.
Urgent Need to Act.
Key Points to Consider.
Chapter 9 Values and Global Context.
Framework for Cultural Values.
Societal Values and Employer Brands.
Context of Values for Courageous Leadership.
Remaining True to Yourself.
Key Points to Consider.
Epilogue Continuing Your Journey to New Horizons.
Acknowledgments.
Notes.
Index.
See More
Blythe J. McGarvie (Williamsburg, VA) is the founder and president of Leadership for International Finance (LIF) (www.LIFgroup.com). Blythe heads a team of experts committed to increasing clients' business performance. LIF provides strategic and financial counsel to help clients achieve near-term and long-term economic objectives and enhance corporate governance. The firm incorporates an integrated, global approach to help companies grow by maximizing the potential of three key resources: money, people and information. Ms. McGarvie serves on the boards of Accenture, Viacom Inc., The Pepsi Bottling Group Inc., Wawa Inc. and The Travelers Companies Inc.  Prior to founding her firm, Blythe was executive vice president and chief financial officer of Bic Group, one of the world's leading manufacturers of convenient disposable products. Blythe is also the author of Fit In, Stand Out: Mastering the FISO Factor for Leadership Effectiveness in Business and Life (McGraw-Hill; October 2005).
See More