X-Men and Philosophy: Astonishing Insight and Uncanny Argument in the Mutant X-Verse
ISBN: 978-0-470-41340-1
272 pages
March 2009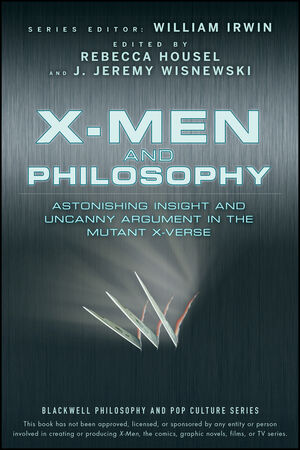 X-Men is one of the most popular comic book franchises ever, with successful spin-offs that include several feature films, cartoon series, bestselling video games, and merchandise. This is the first look at the deeper issues of the X-Men universe and the choices facing its powerful "mutants," such as identity, human ethics versus mutant morality, and self-sacrifice.
J. Jeremy Wisnewski (Oneonta, NY) is Assistant Professor of Philosophy at Hartwick College and the editor of Family Guy and Philosophy (978-1-4051-6316-3) and The Office and Philosophy (978-1-4051-7555-5). Rebecca Housel (Rochester, NY) is a professor at Rochester Institute of Technology, where she teaches about writing and pop culture. For William Irwin's biography, please see below.
See More
ACKNOWLEDGMENTS: Superheroic Thanks to X-tra Special Humans and Mutants Alike! xi
Introduction: You Are About to Embark on an X-perience with "the Strangest Heroes of All" 1
X1: ORIGINS
THE X-FACTOR IN THE EXISTENTIAL
1. The Lure of the Normal: Who Wouldn't Want to Be a Mutant? 5
Patrick D. Hopkins
2. Amnesia, Personal Identity, and the Many Lives of Wolverine 17
Jason Southworth
3. Is Suicide Always Immoral? Jean Grey, Immanuel Kant, and The Dark Phoenix Saga 27
Mark D. White
4. X-istential X-Men: Jews, Supermen, and the Literature of Struggle 38
Jesse Kavadlo
X2: EVOLUTION
CONSCIOUSNESS, CONSCIENCE, AND CURE
5. Mad Genetics: The Sinister Side of Biological Mastery 53
Andrew Burnett
6. Layla Miller Knows Stuff: How a Butterfly Can Shoulder the World 66
George A. Dunn
7. X-Women and X-istence 85
Rebecca Housel
8. Mutant Rights, Torture, and X-perimentation 99
Cynthia McWilliams
9. When You Know You're Just a Comic Book Character: Deadpool 107
Joseph J. Darowski
X3: UNITED
HUMAN ETHICS AND MUTANT MORALITY IN THE X-VERSE
10. Magneto, Mutation, and Morality 125
Richard Davis
11. Professor X Wants You 140
Christopher Robichaud
12. Dirty Hands and Dirty Minds: The Ethics of Mind Reading and Mindwriting 153
Andrew Terjesen
13. The Mutant Cure or Social Change: Debating Disability 170
Ramona Ilea
14. Mutants and the Metaphysics of Race 183
Jeremy Pierce
X4: TH E LAST STAND
WAR, TECHNOLOGY, DEATH, AND MUTANTKIND
15. Mutant Phenomenology 197
J. Jeremy Wisnewski
16. War and Peace, Power and Faith 209
Katherine E. Kirby
17. High-Tech Mythology in X-Men 223
George Teschner
CONTRIBUTORS: And Now, We'd Like to Introduce the X-Perts: Ladies and Gentlemen, the Amazing, Astonishing, Uncanny, Ultimate Authors from Xavier's School for Gifted Philosophers! 236
INDEX 241
See More
Rebecca Housel is a professor of pop culture, creative writing, and medical humanities at Rochester Institute of Technology and contributed to Monty Python and Philosophy.
J. JEREMY WISNEWSKI is an assistant professor of philosophy at Hartwick College and the editor of Family Guy and Philosophy and The Office and Philosophy.
William Irwin is a professor of philosophy at King's College. He originated the philosophy and popular culture genre of books as coeditor of the bestselling The Simpsons and Philosophy and has overseen recent titles, including Batman and Philosophy, House and Philosophy, and Watchmen and Philosophy.
See More
More in this series