SharePoint 2007 Collaboration For Dummies
ISBN: 978-0-470-41342-5
360 pages
May 2009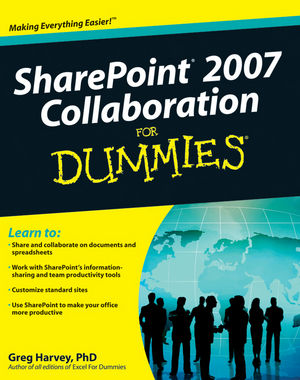 If you're looking for a way to help your teams access what they need to know, work together, and get the job done, SharePoint can do just that.
SharePoint 2007 Collaboration For Dummies
shows you the easiest way to set up and customize SharePoint, manage your data, interact using SharePoint blogs and wikis, integrate Office programs, and make your office more productive.
You'll learn what SharePoint can do and how to make it work for your business, understand the technical terms, and enable your people to collaborate on documents and spreadsheets. You'll even discover how to get SharePoint help online.
Work with SharePoint's information-sharing and team productivity tools
See how data is stored in lists and libraries and arrange access for your teams
Use SharePoint's meeting workspaces and add the capability for virtual meetings online
Create blogs where team members can share ideas and wiki libraries to keep information up to date
Keep everything on track with task lists and workflows to assign and monitor projects and progress
Integrate Word and Excel, or connect SharePoint to Outlook 2007 so you can access information from your inbox
Use Office SharePoint Designer 2007 to create custom workflows for your SharePoint task lists
With tips for designing the perfect SharePoint site and ideas about enhancing your team meetings with meeting workspaces, SharePoint 2007 Collaboration For Dummies helps you put this great collaboration tool to work right away.
Note: CD-ROM/DVD and other supplementary materials are not included as part of eBook file.
See More
Introduction.
Part I: Implementing SharePoint Collaboration.
Chapter 1: Collaborating with SharePoint.
Chapter 2: Setting Up the SharePoint Site for Your Teams.
Chapter 3: Giving Your Teams Access to the SharePoint Site.
Part II: Managing Your SharePoint Data.
Chapter 4: Creating and Maintaining SharePoint Lists.
Chapter 5: The Care and Feeding of SharePoint Libraries.
Part III: Getting the Most Out of Your SharePoint Site.
Chapter 6: Using Meeting Workspaces to Plan and Manage Team Meetings.
Chapter 7: Getting Team Feedback via Surveys and Discussion Boards.
Chapter 8: Stimulating Team Interaction with Blogs and Wiki Pages.
Chapter 9: Editing Collaboratively with Document Workspaces.
Chapter 10: Managing Tasks, Issues, and Workflows in SharePoint.
Part IV: Using Office Programs with SharePoint.
Chapter 11: Integrating SharePoint and Outlook 2007.
Chapter 12: Using Offi ce Applications with SharePoint.
Chapter 13: Customizing Your SharePoint Site with Office SharePoint Designer 2007.
Chapter 14: Using InfoPath 2007 with SharePoint.
Part V: The Part of Tens.
Chapter 15: Top Ten Tips for Designing Your SharePoint Site.
Chapter 16: The Top Ten Challenges to Successful Teamwork.
Glossary: SharePoint Technical Jargon.
Index.
See More
Greg Harvey, PhD is the bestselling author of many For Dummies books, including all editions of Excel All-in-One For Dummies and Windows For Dummies Quick Reference. He has taught business classes at San Francisco's Golden Gate University and holds a doctorate in comparative philosophy and religious studies.
See More