Renewal Coaching Workbook
ISBN: 978-0-470-41497-2
304 pages
March 2010, Jossey-Bass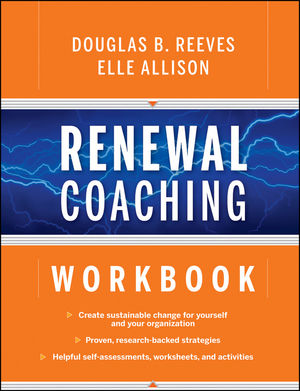 Renewal Coaching Workbook
In their groundbreaking book, Renewal Coaching, Douglas Reeves and Elle Allison offered coaches, managers, teachers, and consultants a research-based, sustainable approach to individual and organizational improvement that involved a disciplined and collaborative sequence of information, experimentation, feedback, and support. The proven Renewal Coaching framework consists of these seven elements:
Recognition—Finding patterns of toxicity and renewal
Reality—Confronting change killers in work and life
Reciprocity—Coaching in harmony
Resilience—Coaching through pain
Relationship—Nurturing the personal elements of coaching
Resonance—Coaching with emotional intelligence
Renewal—Creating energy, meaning, and freedom to sustain the journey
As a next-step resource this workbook includes a wealth of proven strategies and tools designed to help apply the Renewal Coaching approach to advance workplace performance. The workbook includes website access to a variety of helpful resources, assessments, and other tools. Also provided is a Wiki environment for participants to contribute and share their own experiences. The book also contains worksheets and activities focused on sustainable change for executive coaches, teachers, volunteers, or anyone who fits into the role of a "coach."
Praise for the Renewal Coaching Workbook
"A wonderful piece of work?filled with important information and exercises guiding the reader to discover and live from all they can be. The book not only provides a new frame of reference through which to look at life, but the skills to do it. This excellent book will become your personal coach to call upon whenever you like. I recommend it highly." —Brenda Shoshanna, Ph.D., author, Fearless: 7 Principles of Peace of Mind
"Life is a wonderful teacher when we take time for reflection. This book provides the structure most of us need to access learning and self-awareness in a thoughtful way."—Paul Axtell, president, Contextual Program Designs, corporate and university trainer, and consultant
"A wonderful resource for individuals who are going through change, and for those helping others through difficult times. A major strength is the [companion] website. At a time when millions of people have to rethink their purpose, careers, and lives, this workbook provides an important tool for their development."—Patricia Boverie, Ph.D., author, Transforming Work
See More
About the Authors.
About this Book.
Introduction.
PART ONE PREPARATION.
1 The Road to Renewal.
2 Are You Ready to Change?
3 Finding Meaning: Connecting to Your Greater Good.
PART TWO LEARNING.
4 Pre-Assessment: Finding Your Strengths and Challenges.
5 Interpreting Assessment Results.
6 Your 100-Day Renewal Project.
7 Coaching Essentials.
PART THREE REFLECTION.
8 Recognition: Finding Patterns of Toxicity and Renewal.
9 Reality: Confronting Change Killers.
10 Reciprocity: Coaching in Harmony.
11 Resilience: Coaching Through Pain.
12 Resonance: Coaching with Emotional Intelligence.
13 Relationship:When Process Is Personal.
14 Renewal: Energy, Meaning, and Freedom to Sustain
the Journey.
PART FOUR SUSTAINING.
15 Renewal Coaching in Action.
16 Execution: Transforming Plans into Action.
17 Measuring Your Success.
18 Giving Back.
References.
Index.
See More
Douglas B. Reeves is co-founder and chairman of Renewal Coaching. He is the author of more than twenty books and fifty articles on leadership and organizational effectiveness. An internationally recognized expert in leadership, he was twice named to the Harvard Distinguished Authors Series and was recently named the Brock International Laureate for his pioneering research. His work has been translated into six languages. Dr. Reeves delivers more than eighty keynote addresses annually around the globe to audiences in North and South America, Europe, Asia, and Australia.
Elle Allison is co-founder and president of Renewal Coaching. She has worked with clients in health care, business, education, nonprofit organizations, and government agencies. Elle is a member of the National Speakers Association and is a graduate of National Staff Development Academy. She reaches a diverse audience by delivering engaging and informative keynote addresses and seminars on Renewal Coaching, wisdom, and leadership.
Douglas B. Reeves and Elle Allison are the authors of the three-book seriesRenewal Coaching: Sustainable Change for Individuals and Organizations.
See More