Renewal Coaching Fieldbook: How Effective Leaders Sustain Meaningful Change
ISBN: 978-0-470-41498-9
224 pages
December 2011, Jossey-Bass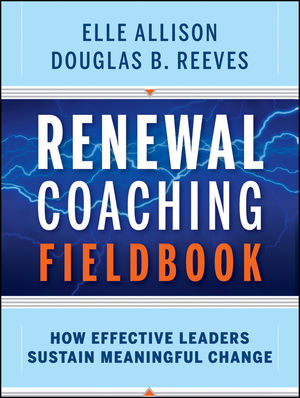 The
Renewal Coaching Fieldbook
outlines the seven practices that leaders can learn and develop in order to sustain their energy to do meaningful work. These practices enable leaders to bounce forward in the face of loss, create networks of support, make wise and timely decisions, and engage in personal renewal daily. Throughout are compelling stories of leaders who have overcome the challenges that seek to diminish and overwhelm them, and succeeded in doing meaningful work for a greater good.
Praise for Renewal Coaching Fieldbook
"Elle and Douglas have written an important book that could change the way business is done by changing the lives of people doing it. In our fantastically connected planet, worldwide commerce impacts all of us immediately, making almost nothing more important for our long term success than committing to meaningful work lives aimed at the 'greater good.' As Elle and Douglas suggest, individual happiness and global happiness will be the outcomes. If this is what you want in your own life—and I hope you do—read this book!"—Rick Foster, co-author, How We Choose to Be Happy and Happiness & Health; publisher, SustainableHappinessCourse.com
"The questions in this book will help you generate new ideas and ways of thinking about your predicaments. They will provide you with the way forward to hope, excitement, and satisfaction in service of a greater good."—Daniel J. Pesut, PhD, RN, professor of nursing, Certified Hudson Institute Coach, Indiana University, Indianapolis
"This is not a fairytale approach to leadership where all is good and everyone is happy. It is a skillfully written manual that addresses the challenges and hard times leaders experience and makes resiliency visible and sustained happiness attainable."—Dr. Kristine Servais, former principal and professor of leadership, North Central College, Naperville, Illinois
See More
Acknowledgments ix
About the Authors xi
List of Tables, Figures, and Exhibits xiii
Preface xv
1 The Heart of Leadership for Sustainable Change: Meaningful Work to Serve a Greater Good 1
2 The Renewal Coaching Leadership Framework: Seven Choices of Leaders of Sustainable Change 11
3 Renewal: Choose to Take Care of Yourself 19
4 Resilience: Choose to Bounce Forward from Challenges and Loss 39
5 Resonance: Choose to Create Force Fields of Positive Energy 65
6 Relationship: Choose to Create and Sustain Networks of People 85
7 Reciprocity: Choose to Initiate Learning and Give More Than You Take 111
8 Reality: Choose to Be Optimistic and a Little Naive in the Face of Harsh Realities 131
9 Recognition: Choose to Use Patterns to MakeWise and Timely Decisions 153
10 Greater Good from the Next Generation 179
References 187
Index 193
See More
Elle Allison,
co-founder and president of Renewal Coaching, reaches diverse audiences in education, heatlh care and business through engaging and informative keynote addresses and workshops on leadership coaching, wisdom, and leadership.
Douglas B. Reeves is co-founder of Renewal Coaching and co-author of Renewal Coaching Sustainable Change for Individuals and Organizations.
See More