Final Fantasy and Philosophy: The Ultimate Walkthrough
ISBN: 978-0-470-41536-8
Paperback
240 pages
October 2009
US $18.95

Add to Cart
This price is valid for United States. Change location to view local pricing and availability.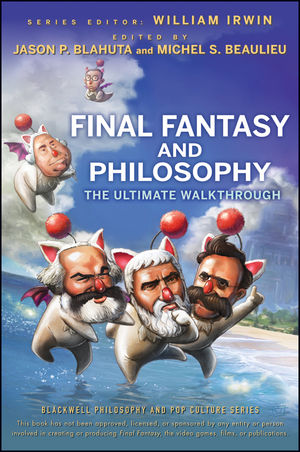 Other Available Formats:
E-book
Getting Started: The Alternative.
Instruction Booklet.
PART ONE: BASIC CONTROLS AND UNDERSTANDING YOUR CHARACTERS.
1 The Spiky-Haired Mercenary vs. the French Narrative Theorist: Final Fantasy VII and the Writerly Text (Benjamin Chandler).
2 Kefka, Nietzsche, Foucault: Madness and Nihilism in Final Fantasy VI (Kylie Prymus).
3 Judging the Art of Video Games: Hume and the Standard of Taste (Alex Nuttall).
PART TWO: PLAYING THE GAME—BUT WHAT IF IT'S NOT A GAME?
4 The Lifestream, Mako, and Gaia (Jay Foster).
5 Gaia and Environmental Ethics in The Spirits Within (Jason P. Blahuta).
6 Objectification of Conscious Life Forms in Final Fantasy (Robert Arp and Sarah Fisk).
PART THREE: ABILITIES YOU NEVER KNEW YOU HAD.
7 Final Fantasy and the Purpose of Life (Greg Littmann).
8 The Four Warriors of Light Saved the World, but They Don't Deserve Our Thanks (Nicolas Michaud).
PART FOUR: SIDE QUESTS OF THE ENLIGHTENED.
9 Shinto and Alien Influences in Final Fantasy VII (Jonah Mitropoulos).
10 Kupo for Karl and the Materialist Conception of History (Michel S. Beaulieu).
11 Sin, Otherworldliness, and the Downside to Hope (David Hahn).
PART FIVE: OTHER WAYS TO ENJOY THE GAME SO IT NEVER ENDS.
12 Human, All Too Human: Cloud's Existential Quest for Authenticity (Christopher R. Wood).
13 Is the Fear of Stopping Justified? (Kevin Fitzpatrick).
14 What's in a Name? Cid, Cloud, and How Names Refer (Andrew Russo and Jason Southworth).
CONTRIBUTORS: Party Menu.
INDEX: Game Tips.