Young World Rising: How Youth Technology and Entrepreneurship are Changing the World from the Bottom Up
ISBN: 978-0-470-41780-5
Hardcover
224 pages
June 2010
US $29.95

Add to Cart
This price is valid for United States. Change location to view local pricing and availability.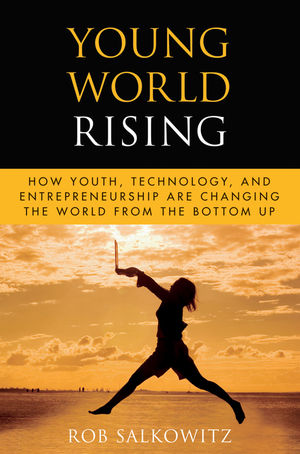 Other Available Formats:
E-book
June 14, 2010
Young World Rising: How Youth Technology and Entrepreneurship are Changing the World from the Bottom Up
Connect with Wiley Publicity
All over the world, ambitious and talented young people are using information technology, social networks, and mobile devices to create new kinds of organizations that blend social and commercial goals, and pioneer new ways of doing business scaled to the realities of the 21st century economy. The rise of these young, tech-empowered entrepreneurs across today's emerging markets – India, Brazil, South Africa, Ghana, Vietnam, the Philippines, Colombia and beyond – creates a new world of opportunities for global business and new hope for finding solutions to pressing social and economic problems.
YOUNG WORLD RISING: How Youth, Technology and Entrepreneurship are Changing the World from the Bottom Up (June 21, 2010; Wiley; $29.95) by Rob Salkowitz explores how the four-billion strong "young world" of entrepreneurs in emerging markets are using technology to find prosperity, reinvent business models and solve social problems. Salkowitz, author of Generation Blend (Wiley, 2008) and a specialist in issues of next-generation workforce and social technology, looks at how the values and behaviors of the "Net Generation" are transforming huge swaths of the globe where the Internet has only recently come into contact with enormous populations of young people desperate to make an impact on their societies and the world – and what this means to organizations everywhere.
The rise of this Young World is creating enormous opportunities for established old world businesses, institutions and investors to gain insight into the dynamics of emerging economies, reach new markets, tap into new sources of innovation, and recruit new young talent to fill skills gaps in a global workforce resulting from the retirement of the Baby Boom generation in the U.S. and the aging of populations in Europe and north Asia.
From his interviews and research, Salkowitz identifies the characteristics that separate digitally empowered Young World entrepreneurs from previous generations of innovators. Among these unique traits is an ability to discover market-based solutions to social problems, organically combining social and commercial goals in the same business model. "For them it is not just about the success of their own business, but about creating a better model for all business: one that is appropriate for a resource-constrained world, and compensates for the arbitrary boundaries that globalization and networks now render obsolete." As members of the global Net Generation, Young World entrepreneurs are interested in collaborative, open-source models, and in working with the public sector and NGOs as much as the private sector to discover new solutions and displace the dilapidated and dysfunctional legacies that previously defined their environments.
The book chronicles the unique entrepreneurial talents, achievements, stories, and aspirations of young world entrepreneurs. These include—
Suhas Gopinath, who launched a multimillion-dollar IT services company Globals, Inc. from a cyber-café in Bangalore, India at the age of 14. Suhas not only became a successful entrepreneur but now rubs elbows with the grandees at Davos as the youngest member of the World Economic Forum.
Bright Simons, a young tech?savvy public policy researcher from Ghana, who developed an ingenious method of combating the scourge of counterfeit medications using the simple text-messaging service found on mobile phones. His company mPedigree now operates in countries throughout Africa and South Asia.
Three undergraduates at a technical college in the remote mountains of Colombia who developed a technology to allow blind people to interpret information on a computer monitor. Their company Duto, SA won a prestigious innovation contest and has capitalized on the exposure afforded to them through the Internet to gain recognition, financing, supply partnerships, and customers for their life-changing product.
Ory Okolloh, Erik Hersman and a "virtual team" of African IT developers who revolutionized the field of crisis response with Ushahidi, a Web-based tool that maps input from mobile devices, online services and information services to provide a strategic real-time view into fast-moving events. Since launching in 2008, Ushahidi has been instrumental in coordinating response to everything from election results in Gaza to the earthquake in Haiti.
Stephanie Caragos, a young IT entrepreneur in the Philippines, who decided to fill the skills gap in the local workforce by creating her own training and mentorship program, LetITHelp. The social enterprise creates opportunities and raises expectations, driving an updraft of prosperity that helps the local economy while providing differentiated value for her own commercial business.
Salkowitz argues that the rise of the Young World poses opportunities, not just competitive threats, for established businesses. He offers practical guidance for engaging young global talent to compensate for the aging workforce demographics in North America and Europe; developing Young World markets and listening to "consumer entrepreneurs" for guidance in reaching the next billion customers worldwide; building reciprocal relationships with high-value outsourcers; and identifying investment opportunities at the new frontiers of economic growth. By planning for this inevitable but unexpected future, today's businesses can create a bridge between young world talent and innovation and old world capital and expertise.
The rise of the Young World has unleashed global talent, knocked down old geographic, cultural and historical boundaries to create opportunity, and suggests a brighter future if the world can find a way to harness the power of billions of minds collaborating to address our most daunting problems. The sustainable, bottom-up organizational models pioneered by Young World entrepreneurs offer a viable alternative to the centralized, hierarchical methods of old-world institutions, and new ways of thinking about everything from innovation to market growth to the policies of economic development.
Rich with firsthand research, case studies and interviews, YOUNG WORLD RISING points to one of the most important trends impacting the global economy.
About the Author:
Rob Salkowitz is a writer, entrepreneur and consultant specializing in the social implications of new technology. He has worked with global companies including Microsoft, to help formulate market strategy and articulate business goals. An entrepreneur from age 24, Rob has helped start seven businesses and is a principal in the Seattle-based communications firm MediaPlant, LLC. Rob is author of Generation Blend: Managing Across the Technology Age Gap and coauthor (with Daniel W. Rasmus) of Listening to the Future. He holds a degree in International Relations from Columbia University, and serves on the Board of Directors of Older Adults Technology Services, a New York-based nonprofit focused on closing the digital age divide. He lives and works in Seattle, Washington with his wife, Eunice Verstegen.
ABOUT THE BOOK:
Wiley: Young World Rising: How Youth Technology and Entrepreneurship are Changing the World from the Bottom Up
Publication date: June 21, 2010
Hardback; $29.95; 224 pages
ISBN: 978-0470417805
Visit the book's website: http://youngworldrising.com/