Textbook
The Professional Chef, 9th Edition
ISBN: 978-0-470-42135-2
1232 pages
September 2011, ©2011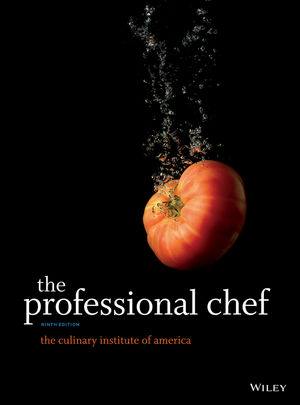 The Professional Chef is among the best-selling titles in Wiley's cooking program and represents the cornerstone book in our publishing partnership with the CIA. We have completely reorganized this book to reflect the way that people cook in the kitchen today, with the best of foods and flavors from around the world.  The book reviews ingredients, equipment, and skills of the professional chef. It then explores the techniques for the full range of food items: vegetables, potatoes, grains, legumes, pasta, meats, fish and seafood, poultry, eggs, fruits, soups, sauces, quickbreads and cakes, yeast breads, and more. The new edition features information on global cuisines, an all-new chapter on Plated Desserts, and information on topics of growing importance such as sous vide cooking, seasonality, and sustainability. The new edition features a new user-friendly design and structure, guiding readers through the basic principles behind each technique at a glance, and then providing more in-depth information along with step-by-step photography. Complete with hundreds of recipes and four-color photographs throughout, this is the essential reference for any aspiring chef, culinary student, or cooking enthusiast. For the first time ever, The Professional Chef is also available as a revolutionary interactive iPad edition (978-1-118-12012-5). 
See More
Master Recipe List viii
Acknowledgments xvi
Introduction xviii
PART ONE The Culinary Professional
Chapter 1 INTRODUCTION TO THE PROFESSION 3
Chapter 2 MENUS AND RECIPES 13
Chapter 3 THE BASICS OF NUTRITION AND FOOD SCIENCE 23
Chapter 4 FOOD AND KITCHEN SAFETY 31
PART TWO Tools and Ingredients in the Professional Kitchen
Chapter 5 EQUIPMENT IDENTIFICATION 43
Chapter 6 MEAT, POULTRY, AND GAME IDENTIFICATION 69
Chapter 7 FISH AND SHELLFISH IDENTIFICATION 99
Chapter 8 FRUIT, VEGETABLE, AND FRESH HERB IDENTIFICATION 127
Chapter 9 DAIRY AND EGG PURCHASING AND IDENTIFICATION 181
Chapter 10 DRY GOODS IDENTIFICATION 199
PART THREE Stocks, Sauces, and Soups
Chapter 11 MISE EN PLACE FOR STOCKS, SAUCES, AND SOUPS 239
Chapter 12 STOCKS 253
Chapter 13 SAUCES 267
Chapter 14 SOUPS 301
PART FOUR Meats, Poultry, Fish, and Shellfish
Chapter 15 MISE EN PLACE FOR MEATS, POULTRY, FISH, AND SHELLFISH 361
Chapter 16 FABRICATING MEATS, POULTRY, AND FISH 375
Chapter 17 GRILLING, BROILING, AND ROASTING 423
Chapter 18 SAUTÉING, PAN FRYING, AND DEEP FRYING 487
Chapter 19 STEAMING AND SUBMERSION COOKING 531
Chapter 20 BRAISING AND STEWING 571
PART FIVE Vegetables, Potatoes, Grains and Legumes, and Pasta and Dumplings
Cchapter 21 MISE EN PLACE FOR VEGETABLES AND FRESH HERBS 617
Cchapter 22 COOKING VEGETABLES 647
Cchapter 23 COOKING POTATOES 713
Cchapter 24 COOKING GRAINS AND LEGUMES 751
Cchapter 25 COOKING PASTA AND DUMPLINGS 807
PART SIX Breakfast and Ggarde Mmanger
Chapter 26 COOKING EGGS 847
Chapter 27 SALAD DRESSINGS AND SALADS 879
Chapter 28 SANDWICHES 931
Chapter 29 HORS D'OEUVRE AND APPETIZERS 945
Chapter 30 CHARCUTERIE AND GARDE MANGER 985
PART SEVEN Baking and Pastry
Chapter 31 BAKING MISE EN PLACE 1015
Chapter 32 YEAST BREADS 1025
Chapter 33 PASTRY DOUGHS AND BATTERS 1047
Chapter 34 CUSTARDS, CREAMS, AND MOUSSES 1091
Chapter 35 FILLINGS, FROSTINGS, AND DESSERT SAUCES 1107
Chapter 36 PLATED DESSERTS 1131
Appendix 1161
Glossary 1167
Readings and Resources 1185
Recipe Index 1191
Subject Index 1202
See More
For those of you who aspire to wearing the whites, then
The Professional Chef
by The Culinary Institute of America is for you.
This is the book the pros turn to when they need to know how to prevent a lumpy roux, how to fix a broken mayonnaise or how to exact the measurements of Paysanne-cut vegetables.  This is epic chef material.  I find it a fascinating read even if I don't have the backbone to stick a knife into a lobster.  
Being the 9th edition, it's a strong indication the book has been around awhile and will continue to evolve with subsequent editions.  Food is evolutionary by nature, and the book has done a great job of identifying and explaining current trends like sous vide or cooking en papillote.
At 1,212 pages, this massive book of recipes and techniques will add ballast to any bookshelf in need of stabilization.  I foresee many a night this winter when I shall be enjoying a nice glass of wine while dipping in and out of chapters on shallow poaching, bisques, or legumes.
Whatever type of chef you are - home or professional - ......... designed to develop your chef skills.  Once you are able to master your cheffing techniques, hopefully the only tears you cry will be tears of joy.
Culinaria Libris, 3rd October 2011
See More
Instructors Resources
Digital evaluation copy available for this title
Request Copy

Contact your Wiley Representative
Find Your Rep

See More
See Less
Learn more about