Essentials of Executive Functions Assessment
ISBN: 978-0-470-42202-1
416 pages
December 2012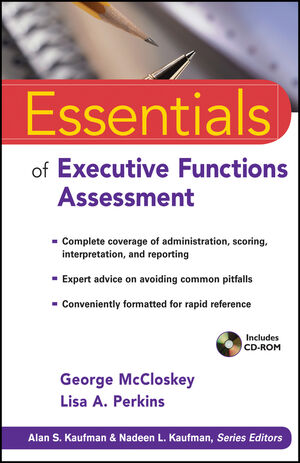 Written by experts in the area of executive functioning, Essentials of Executive Functions Assessment equips mental health practitioners (school, clinical, developmental/pediatric, neuropsychologists, educational diagnosticians, and educational therapists) with all the information they need to administer, score, and interpret assessment instruments that test for executive functions deficits associated with a number of psychiatric and developmental disorders.
See More
Series Preface ix
Acknowledgments xi
One A Multidimensional Model of Executive Functions 1
Two Executive Functions and Related Psychological Constructs 45
Three A Framework for the Assessment of Executive Functions 82
Four Assessment of Executive Functions Using Clinical Assessment Interviews, Records Review, and Behavior Observations 107
Five Assessment of Executive Functions Using Tests of Cognition 131
Six Assessment of Executive Functions Using Tests of Academic Skills 188
Seven Assessment of Executive Functions Using Behavior Rating Scales 248
Eight Reporting Executive Functions Assessment Results 319
References 377
About the Authors 387
Index 389
About the CD-ROM 399
See More
GEORGE McCLOSKEY, PhD, is Professor at and Director of School Psychology Research in the Psychology Department of the Philadelphia College of Osteopathic Medicine.
LISA A. PERKINS, PsyD, is a school psychologist for the Westport, Connecticut, Public Schools and maintains a private practice at the Family Study Center, Inc., in Danbury, Connecticut.
See More