Commodity Trader's Almanac 2010
ISBN: 978-0-470-42217-5
Hardcover
198 pages
November 2009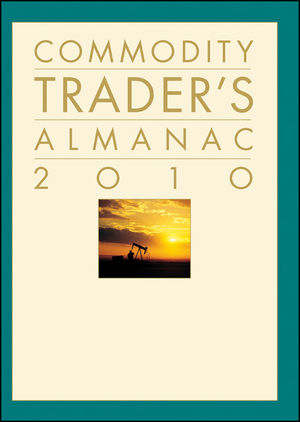 This title is out-of-print and not currently available for purchase from this site.
November 12, 2009
Commodity Trader's Almanac 2010
Connect with Wiley Publicity
Severe volatility in oil, precious metals, and food prices causes millions to be lost as well as gained in the commodities market. Despite the erratic ups and downs, there is a cyclical pattern to commodity markets, with weather, holidays, human behaviors and other factors impacting demand and supply, and ultimately, the price of a commodity. Incorporating the same format that has made Stock Trader's Almanac the ultimate desktop market data bank for more than 40 years, COMMODITY TRADER'S ALMANAC 2010 (Wiley; November 2009; $39.95; 978-0-470-42217-5; Hardcover) is a vital resource of historical reference and seasonal patterns. Edited by John Person, a 29-year veteran of the futures and options industry, the book includes monthly almanac pages; market highlights; pertinent statistics, historical strengths and weaknesses, seasonal tendencies, and information on the beginning and end for both rallies and breaks.
Seasonalities and their respective potential risks and rewards have been identified for 19 different commodities on both the long and the short side. In addition to the top 13 traditional commodities, the almanac includes data for how the U.S. dollar fares against four of the top major currencies (the euro, Swiss franc, Japanese yen, and the British pound). Plus, new for 2010, two markets have been added, the S&P 500 index futures and the 30-Year Treasury Bonds. The almanac incorporates how to translate trading stocks and Exchange Traded Funds (ETFs) from the study of seasonal commodity and Forex cycles. This takes seasonal studies further by including examples of highly correlated stocks that trade in tandem with the respective commodities. One example is the relationship between the price move of soybean futures against an agricultural ETF like PowerShares DB Agriculture (DBA) and the price move of a specific stock in the agribusiness, such as Monsanto (MON). Detailed statistical data on past market price action; top technical timing tools designed to improve results, including tips on how to utilize Candlesticks and Pivot Points; the trading nuances of related markets; annual highs and lows for the top commodity markets; and reminder alerts are presented to help better time seasonal trades.
The 2010 Commodity Trader's Almanac introduces several new features, including a commodity seasonality strategy calendar, a listing of commodity trading specs and related securities to trade, and business cycle analysis and trading tips for the current climate. The new contract specifications tables containing a listing of high-correlating stocks and exchange traded funds for each commodity should help futures traders and stock traders capitalize on these seasonal tendencies by using various securities based on different patterns and strategies. Five case studies on how these trades actually worked last year illustrate how to use this Almanac in combination with Person's favorite technical tools. Research from Person's book Forex Conquered: High Probability Systems and Strategies for Active Traders will help the trader understand and identify where we are in the business cycle and what to potentially expect in the markets.
Intended as a tool to assist participants when entering a new position or deciding to either move a stop loss or add to a new position, COMMODITY TRADER'S ALMANAC discusses:
How natural production and consumption cycles drive prices during specific times of the year
How the futures markets often factor in demand and supply concerns prior to the actual event
How similar, but different markets often react stronger or weaker to the natural consumption/production cycle
That prices are often driven by regularly recurring patterns (or cycles) surrounding the calendar year and how often these patterns have continued or reversed
COMMODITY TRADER'S ALMANAC 2010 is an indispensible resource for traders seeking to capitalize on the growing commodity and futures markets.
Other products from the Hirsch Organization include STOCK TRADER'S ALMANAC 2010 (Wiley; October 2009; $39.95; 978-0-470-42218-2; Hardcover) and ALMANAC INVESTOR NEWSLETTER (https://www.stocktradersalmanac.com). Published every year since 1968, STOCK TRADER'S ALMANAC is a must-have investment tool with a wealth of information organized in a calendar format. It alerts readers to little-known market patterns and tendencies that help investors forecast market trends with accuracy and confidence. Allowing shrewd investors to maximize profit potential, STA is the ultimate desktop market data bank, showing the market's likely direction every hour, day, week, and month based on historical precedent. The ALMANAC INVESTOR NEWSLETTER provides monthly newsletters that feature stock market data, indicators, and seasonal patterns; weekly e-mail alerts that warn users about the best/worst trading days, market changes, stock updates, financial commentary, and overall market sentiment; and access to handy research tools that enable subscribers to do their own research and update market indicators and strategies. The Hirsch Organization also publishes books with Wiley under its Almanac Investor Series, including The MAGNET Method of Investing by Jordan Kimmel, Double Your Money in America's Finest Companies by Bill Staton and America's Finest Companies 2010: 19th Annual Investment Directory (E-Book Only) by Bill Staton with Mary Staton.