E-book
Laptops Just the Steps For Dummies
ISBN: 978-0-470-42249-6
240 pages
October 2008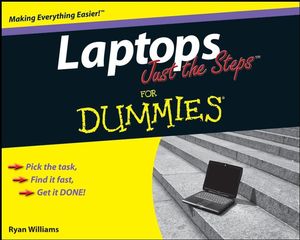 You'll get the straight, simple lessons that you need to effectively use your Vista powered laptop in
Laptops Just the Steps For Dummies
. Get where you need to go with a minimum of steps! This book lays out a specific goal and helps you achieve it with a series of lessons, paired with tips and graphics to illustrate the task. You can read this book from cover to cover or skip to the parts that you need to know.
In a flash, you will understand the basic parts, switches, and drives that make up your laptop. You'll learn how to operate the main functions of Windows Vista, like managing user accounts, navigating the system, and working with files, folders, software, and devices. You'll learn how to create media and connect to the Internet with or without wires! You'll discover how to troubleshoot and patch your operating system. You will find out how to:
Clean and maintain your laptop
Operate Windows Vista and manage its options
Create and store media
Set up a router, connect to a network, and go wireless
Sync data and create backups
Browse safely
Troubleshoot hardware and software and patch your operating system
Laptops Just the Steps For Dummies provides you with all of the information you need to work more efficiently than ever before!
See More
Introduction.
Part I: Knowing Your Laptop.
Chapter 1: What's in This Thing?
Chapter 2: Knowing the Right Switches.
Chapter 3: Going for a Drive.
Chapter 4: Cleaning Up Nicely.
Part II: Looking Over the Vista.
Chapter 5: Accounting for Your Users.
Chapter 6: Introducing Yourself to the System.
Chapter 7: File It Away.
Chapter 8: Setting Up Your Resources.
Chapter 9: Installing and Removing Software.
Chapter 10: Making Devices Play Nice Together.
Chapter 11: Making Your Own Media.
Part III: Expanding Your Network.
Chapter 12: Keeping Yourself Wired.
Chapter 13: Cutting the Cords.
Chapter 14: Share and Share Alike.
Chapter 15: Home and Away Games.
Chapter 16: Getting on the Internet.
Part IV: Hitting the Road.
Chapter 17: Staying In Touch.
Chapter 18: Playing It Safe.
Part V: What Could Go Wrong?
Chapter 19: Troubleshooting Your Hardware.
Chapter 20: Troubleshooting Your Software.
Chapter 21: Patching It Up.
Part VI: Options.
Chapter 22: Your Instant Office.
Chapter 23: Mainstream Media.
Index.
See More
Ryan Williams is the author of Windows XP Digital Music For Dummies and Teach Yourself VISUALLY Bass Guitar. He is also a co-author of MySpace For Dummies and Expert Podcasting Practices For Dummies (all from Wiley Publishing). He speaks frequently on technical and musical topics at a variety of conferences. Finally, Ryan has seen and repaired just about everything that can go wrong with a computer.
See More