Designing Dendrimers
ISBN: 978-0-470-43355-3
616 pages
December 2011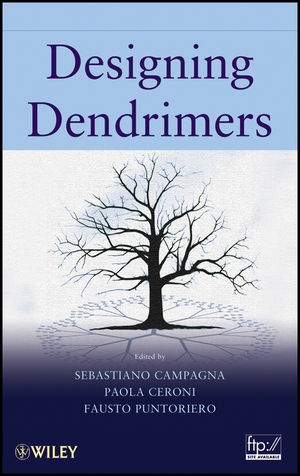 Research on dendrimers has exploded in the last 15 years, moving from the establishment of synthetic methodologies, particularly in the early years up to the end of nineties, towards sophisticated and wide-ranging applications. Dendrimers play an important role in many different areas, spanning from basic synthetic approaches to artificial photosynthesis, to medicine, to catalysis. The great potential of dendrimers is well-recognized by the hundreds of papers in the field and the increasing number of patents, and stimulated developments in other areas of knowledge, including new characterization techniques. However, some basic principles and methods still continue to give a unity to the field. Although several books on dendrimers have been published during these 15 years, the very recent progresses in new areas now requires a new point of view, trying to give a unifying and comprehensive outlook of the field. Since the first dendrimer was synthesized by Vögtle in 1978, dendrimers have experienced an explosion of scientific interest because of their unique molecular architecture. This resulted in over 5,000 scientific papers and patents published by the end of 2005. The proposed book will cover both fundamental and applicative aspects of dendrimer research. Chapters devoted to basic principles, synthetic methods and strategies, and advanced characterization techniques will be integrated by chapters illustrating the full potential of dendrimers in various fields, like artificial photosynthesis, multi-redox pool systems, diagnostics, biomedical and sensing purposes, design of functional nanostructures. Particular emphasis will be devoted to possible future developments.
See More
Preface vii
List of Contributors xi
1 Dendrimers as quantized nano-modules in the nanotechnology field 1
Jørn B. Christensen and Donald A. Tomalia
2 Novel methods for dendrimer synthesis 35
Isao Washio and Mitsuru Ueda
3 Designer monomers to tailored dendrimers 57
George R. Newkome and Carol Shreiner
4 Dendronized polymers: state of the art in Zurich 95
Afang Zhang and A. Dieter Schl€uter
5 Shape persistent polyphenylene-based dendrimers 121
Martin Baumgarten, Tianshi Qin, and Klaus M€ullen
6 Dendrimer chemistry with fullerenes 161
Jean-Franc¸ois Nierengarten
7 Redox and fluorescent open core dendrimers 195
Angel E. Kaifer
8 Redox-active organometallic dendrimers as electrochemical sensors 219
Carmen M. Casado, Beatriz Alonso, Jose Losada, and Marı´a Pilar Garcı´a-Armada
9 Shape-persistent conjugated dendrimers for organic electronics 263
Jing Yan, Fan Gao, Jian Pei, and Yuguo Ma
10 Fine-controlled metal assembly in dendrimers 303
Takane Imaoka and Kimihisa Yamamoto
11 Enlightening structure and properties of dendrimers by fluorescence depolarization 341
Giacomo Bergamini, Enrico Marchi, Paola Ceroni, and Vincenzo Balzani
12 Single-molecule spectroscopy of dendrimer systems 367
Tom Vosch
13 Degradable dendrimers 403
Marc Gingras
14 Porphyrin dendrimers as biological oxygen sensors 463
Sergei A. Vinogradov and David F. Wilson
15 Peptide dendrimers as artificial proteins 505
Tamis Darbre and Jean-Louis Reymond
16 Phosphorus-containing dendritic architectures: synthesis and applications 529
Anne-Marie Caminade and Jean-Pierre Majoral
Index 563
See More
Sebastiano Campagna is Professor of Physical Chemistry at the University of Messina and is Chairman of the Gruppo Italiano di Fotochimica (GIF), the Italian branch of the European Photochemistry Association. His current research deals with supramolecular photochemistry and artificial photosynthesis.
Paola Ceroni, PhD, is an Associate Professor at the University of Bologna. Her current research is focused on the photochemistry and electrochemistry of molecular and supramolecular systems, with an emphasis on photoactive dendrimers.
Fausto Puntoriero, PhD, is a researcher at the University of Messina, where his research deals with the development of functional and photo- and redox-active multicomponent systems.
See More