Instant Interviews: 101 Ways to Get the Best Job of Your Life
ISBN: 978-0-470-43847-3
320 pages
June 2009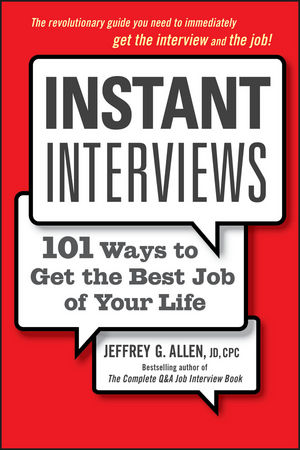 "Every page of this exciting new book explodes with the energy of new ideas. You haven't read these techniques on the Net or anywhere else. Highly recommended!"
—Joyce Lain Kennedy, America's No. 1 Syndicated Careers Columnist
Get all the interviews you want—instantly!
It's a jungle out there—a jobjungle. You're crouching—and grouching—waiting impatiently to attack the next job that appears. You hear a rustle through the trees and hold your breath. Something moves— but before you can pounce, it's gone. Each time you get better and better. . .at blowing interviews.
Is that you? Why? What are you waiting for? You could be having more fun and more success than you've ever had in your life! Instant Interviews turns you into an interview magnet. If you're going to use traditional lead sources like the Internet, classified ads, or job fairs, this book will supercharge their effectiveness. You'll stop waiting for something to happen and start making it happen yourself.
Instant Interviews includes 101 easy, proven techniques for getting the only thing that counts in the job jungle—an interview. Get face-to-face with your future using these strategies and dozens more:
Find your ideal employer online right now
Incite potential employers to interview you today
Immediately reply to only the hottest job listings
Know now what employers want, not what they say
Read between the lines in help-wanted ads to get interviewed first
Develop your interviewing persona fast
Develop a list of personal references by tomorrow
Use temporary assignments differently to get hired right away
Get interviews through the back door this Saturday
Auction yourself to the highest bidder by next week
Develop an endless flow of job offers without delay
It's all inside. The techniques in Instant Interviews are designed solely to have you in the right place at the right time to land your dream job. Starting today. Smart, savvy, and sure—these are the ultimate skills for unlimited career success through unlimited interviews in any economy.
See More
About the Author . . . xiii
Introducing Instant Interviews! xv
Foreword and . . . Forward March! xvii
1: Appearing Magically—Like a Genie! 1
2: Making and Taking the Instant Interview Magic Potion 22
3: Maintaining Magic Potion Potency Throughout the Day 26
4: Breaking out of the Box—Job E-X-P-A-N-S-I-O-N 28
5: E-Mailing, Faxing, and Mailing Your Rest-You-May 31
6: Getting Your Resume Scanned 35
7: Writing the ASCII Resume 36
8: Getting You Covered with the Better Letter 38
9: Broadcasting a Letter with High Bandwidth 42
10: Faxmailing for Nofailing 45
11: Dollaring for Instant Interest 47
12: Maximizing Instant Availability Announcements 50
13: Blasting Instant Availability Announcements 52
14: Shifting into Overdrive with the Callback Card 54
15: Interviewing Instantly over the Internet 56
16: Courting a Corporate Partner—Online 59
17: Getting Personal to Get Interviewed 61
18: Surveying to Get Instantly In 63
19: Reading Between the Classified Ad Lines 65
20: Responding to Classified Ads 67
21: Mining the Yellow Pages 68
22: Breaking the Code in Business Periodicals 70
23: Teaching a Class 71
24: Giving a Speech 73
25: Making Your Own Recordings 77
26: Expediting Executive Recruiting 78
27: Writing for Newspaper Special Sections 82
28: Guiding a Counselor at a Free Career Center 83
29: Inciting Potential Offerors to Interview 84
30: Answering Inside Job Listings: Gold without the Shaft 87
31: Vacationing Free While They Interview Thee 91
32: Forming Your Very Own Job Club 94
33: Launching a Proactive Proposal 97
34: Interrupting the Interview Intervention 101
35: Arriving at Airports, Stations, and Depots 106
36: Transforming Ground Transportation into Interview Information 107
37: Tracking on Trains 108
38: Taking Off in Business Class 110
39: Developing Your Persona 114
40: Calling and Enthralling the Offeror 117
41: Reading the Offeror Like a Book 119
42: Increasing Your Interviewing Instincts 122
43: Bossing around Your Boss to Get You Interviews 126
44: Indemnifying an Offeror for Your Instant Dream Job 130
45: Networking Out at the Jobgym 135
46: Renewing Acquaintances Instantly 140
47: Obtaining Publicity about Instant Availability 143
48: Writing Letters to the Editor 144
49: Writing Articles or Columns 145
50: Using a Rent-a-Mentor 146
51: Sampling the Sweets at Job Fairs 147
52: Writing the Instant Bio 151
53: Writing a Press Release 151
54: Crashing Parties at Hotels 153
55: Granting Celebrities an Interview 154
56: Mixing and Matching at the Chamber Mixer 157
57: Learning to Play Ball from the Blue Crew 159
58: Promoting Interviews Using Postal Centers 160
59: Targeting Interviews with the F-O-C-U-S Principle 163
60: Outerviewing There and Now 166
61: Uncovering the Office Building Underground Instantly 171
62: Running the Routes with the Jobjungle Scouts 173
63: Banking Personal References Instantly 175
64: Banking Professional References Instantly 181
65: Getting Your Foot in the Store Door 189
66: Newspapering on Your Route for Instant Ins 193
67: Remembering Your Lines Instantly Like a S-T-A-R 195
68: Turning On Off-Offerors 196
69: Demonstrating the Instant You 199
70: Auctioning Yourself Off to the Highest Bidder 202
71: Lowering Your Interview Age Instantly 205
72: Partying Early at the Offerors-Only Warehouse 209
73: Generating Instant Revenues and Interviews 210
74: Grabbing the Bigbucks Instant Offerors 213
75: Interviewing as an Intern Instantly 215
76: Zipping Through It All at City Hall 217
77: Accepting Temporary Assignments 220
78: Temping Differently to Interview Instantly 221
79: Igniting Intense Interview Interest from Competitors 223
80: Bonding Instantly with Immigrant Offerors 225
81: Disabling a Disability Instantly 228
82: Recalling Offerors' Names Instantly 232
83: Swap Meets for Top Greets 234
84: Supercharging Your Sphere of Influence 236
85: Interviewing for an Instant Increase 240
86: Magnetizing Muckety-mucks 243
87: Getting Paid for Instant Interviewing 244
88: Getting Leads from Leasers 245
89: Passing Instantly Through the Personal Screen 247
90: Passing Instantly Through the Professional Screen 252
91: Using Lead Cards for Instant Referrals 256
92: Controlling the Offeror Like a Robot 258
93: Sending Icon Introduction Letters 260
94: Slipping in the Back Door this Saturday 263
95: Making a Maven an Interview Mentor 267
96: Doing Informational Interviews Instantly 271
97: Consulting for Instant Resulting 274
98: Infiltrating the Secretarial Secret Service Instantly 279
99: Jolting Overworked Offerors 281
100: Pursuing Your Passion 287
101 and DONE! Deciding Which Offer to Accept 289
Acknowledgments 293
Index 295
See More
JEFFREY G. ALLEN, JD, CPC, is the world's leading placement lawyer and author of more bestselling books in the career field than anyone else. For over four decades, Jeff has worked as an executive recruiter, human resources manager, and specialist in getting people hired—people at all ages, wages, and stages. This is the guy and this is the guide!
See More