CWNA Certified Wireless Network Administrator Official Study Guide: Exam PW0-104
ISBN: 978-0-470-43890-9
768 pages
April 2009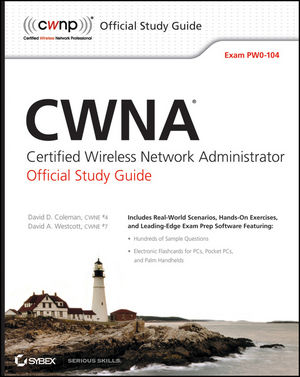 Sybex is now the official publisher for CWNP, the certifying vendor for the CWNA program. This valuable guide covers all objectives for the newest version of the PW0-104 exam, including radio technologies; antenna concepts; wireless LAN hardware and software; network design, installation and management; wireless standards and organizations; 802.11 network architecture; wireless LAN security; performing site surveys; and troubleshooting. Also included are hands-on exercises, chapter review questions, a detailed glossary, and a pre-assessment test. The CD-ROM features two bonus exams, over 150 flashcards, and numerous White Papers and demo software.
Note: CD-ROM materials for eBook purchases can be downloaded from CWNP's website at www.cwnp.com/sybex.
See More
Introduction.
Assessment Test.
Chapter 1 Overview of Wireless Standards, Organizations,and Fundamentals.
Chapter 2 Radio Frequency Fundamentals.
Chapter 3 Radio Frequency Components, Measurements, and Mathematics.
Chapter 4 Radio Frequency Signal and Antenna Concepts.
Chapter 5 IEEE 802.11 Standards.
Chapter 6 Wireless Networks and Spread Spectrum Technologies.
Chapter 7 Wireless LAN Topologies.
Chapter 8 802.11 Medium Access.
Chapter 9 802.11 MAC Architecture.
Chapter 10 Wireless Devices.
Chapter 11 WLAN Deployment and Vertical Markets.
Chapter 12 WLAN Troubleshooting.

Chapter 13 802.11 Network Security Architecture.
Chapter 14 Wireless Attacks, Intrusion Monitoring, and Policy.
Chapter 15 Radio Frequency Site Survey Fundamentals.
Chapter 16 Site Survey Systems and Devices.
Chapter 18 High Throughput (HT) and 802.11n.
Appendix A About the Companion CD.
Appendix B Abbreviations, Acronyms, and Regulations.
Glossary.
Index.
See More
David D. Coleman, CWNE, CWNA, CWSP, CWNT, is an independent consultant and technical trainer with over fifteen years of IT experience. David has consulted with CWNP on the hands-on labs used in the classroom programs. He also holds Microsoft and Cisco certifications. David A. Westcott, CWNE, CWNA, CWSP, CWNT, is an independent consultant and technical trainer with over twenty years of experience. David has been a certified trainer for over twelve years.
See More
Download Title
Size
Download
Missing file on CD: LinkBudget.xls
The file LinkBudget.xls, referred to on page 93 in Exercise 3.6, was left out of the CD materials. Download it here.
17.00 KB
Click to Download
Missing file on CD: floorplan.jpg
The file referred to in Step 3 of Exercise 16.4 on page 554, floorplan.jpg, was left off the CD in the version that shipped with the 1st and 2nd printings of the book. You can download the file here.
17.00 KB
Click to Download
See More
Do you think you've discovered an error in this book? Please check the list of errata below to see if we've already addressed the error. If not, please submit the error via our Errata Form. We will attempt to verify your error; if you're right, we will post a correction below.
Chapter
Page
Details
Date
Print Run
3
93
Missing file on CD, needed for Exercise 3.6
The file LinkBudget.xls, referred to in Exercise 3.6, was left out of the CD materials. You can download the file from the Resources and Downloads tab.
6/9/09
16
534 & 554
Text correction: Misidentified directory on CD
Exercise 16.1, p. 534, Step 1, second sentence: "From the Fluke directory of the CD,…" should read:
"From the AnalyzeAir directory of the CD,…"

Exercise 16.4, p.554, Step 1, first sentence: "From the Fluke directory of the CD,…" should read:
"From the AnalyzeAir directory of the CD,…"

In the 1st and 2nd printings, the accompanying CD does not have the file referred to in Step 3 of Exercise 16.4, floorplan.jpg. Go to the Resources and Dowloads tab to download this file.
8/7/09
1st and 2nd
16
554
Missing file on CD: floorplan.jpg, needed for Exercise 16.4
In the 1st and 2nd printings, the accompanying CD does not have the file referred to in Step 3 of Exercise 16.4 on p. 554, floorplan.jpg. Go to the Resources and Dowloads tab to download this file.
8/7/09
1st and 2nd
See More
Learn more about