E-book
Final Cut Pro Portable Genius
ISBN: 978-0-470-43998-2
272 pages
August 2011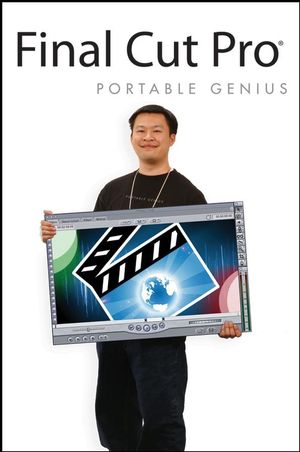 This savvy Portable Guide shows you how to get the most from Final Cut Pro. You'll find cool and useful tips, full-color screenshots, and pages of easy-to-access shortcuts and tools that show you which editing technique is right for you, how to use Final Cut Pro as a sound and mixing tool, and the best ways to maximize the output of your final product.
See More
Introduction.
Chapter 1: What Should My Mac Preferences Be?
Chapter 2: What Are the Critical Final Cut Pro Preferences?
Chapter 3: How Do I Ingest Media into Final Cut Pro?
Chapter 4: Which Editing Technique Fits My Style?
Chapter 5: How Do I Use Final Cut Pro as a Professional Sound and Mixing Tool?
Chapter 6: Which Title Tool Should I Use?
Chapter 7: How Can I Use Final Cut Pro for High- End Effects Compositing?
Chapter 8: Can I Use Final Cut Pro to Produce Complex Motion Effects?
Chapter 9: How Many Ways Can I Use Filters?
Chapter 10: How Can I Maximize the Output of My Final Cut Pro Product?
Chapter 11: How Can I Benefit from Media Management?
Index.
See More