E-book
Knitting For Dummies, 2nd Edition
ISBN: 978-0-470-44014-8
384 pages
November 2008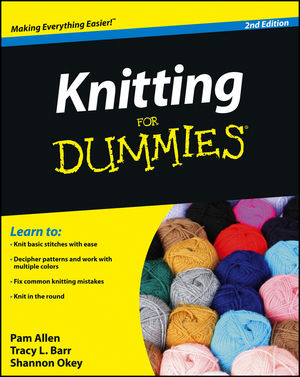 Whether you're just picking up knitting needles for the first time or you've been knitting for years,
Knitting For Dummies, 2nd Edition
, will be your pattern for knitting success. Have you always wanted to knit, but are just not sure how or where to start? Have you been knitting for years and want to perfect your stitches? As a beginner you will learn…
the tools of the trade
the basics
how to read a pattern
the fundamentals
basic stitches
techniques no knitter should be without
what to do when you make a common mistake
tips for knitting in the round
how to knit some easy projects
More advanced? Try your needles at stripes, cables, twists, lace, Fair Isle, intarsia, and full garments. Knitting For Dummies, 2nd Edition, will not only enhance the skills you already have, it'll teach you new ones, from expert knitters who will guide you every step of the way. You'll be on your way to knitting a new wardrobe in no time!
See More
Introduction.
Part I: Getting Ready to Knit.
Chapter 1: Two Needles, a Ball of Yarn, and a Little Know-how.
Chapter 2: Tools of the Trade.
Chapter 3: Taking the Mystery Out of Patterns and Gauge.
Part II: Knitting Primer.
Chapter 4: The Fundamentals: Casting On, Knitting, Purling, and Binding Off.
Chapter 5: Basic Stitches You'll Use Again and Again.
Chapter 6: Techniques Every Knitter Should Know.
Chapter 7: Oops! Fixing Common Mistakes.
Chapter 8: Knitting in the Round.
Chapter 9: Practicing with Simple Projects.
Part III: Techniques for the More Experienced Knitter.
Chapter 10: Stripes — Yipes!
Chapter 11: Cable Musings and Interesting Twists.
Chapter 12: Let the Sun Shine In: Knitting Lace.
Chapter 13: Fair Isle and Intarsia Techniques.
Part IV: Making Garments.
Chapter 14: Anatomy of a Sweater Pattern.
Chapter 15: How to Knit a Sweater, Step by Step.
Chapter 16: Getting It Together: Blocking and Assembling Your Pieces.
Chapter 17 : Finishing Touches: Neckbands, Edging, Buttonholes, and More.
Chapter 18: Starter Garments.
Part V: The Part of Tens.
Chapter 19: Ten (Plus One) Unkinking Exercises for Knitters.
Chapter 20: Ten Quick Knitting Projects and Gift Ideas.
Part VI: Appendixes.
Appendix A: More Stitches and Cool Effects.
Appendix B: Knitting Resources.
Index.
See More
Pam Allen
is the author of the bestselling first edition of
Knitting For Dummies
.
Tracy L. Barr is a professional writer and editor, and has been an avid knitter for more than 30 years.
Shannon Okey is the author of nearly a dozen books on knitting and other fiber arts and a columnist for knit.1 magazine. She hosts a call-in podcast about knitting and has appeared on many television shows.
See More